Understanding mental health issues through innovative artworks
Published: 

6 June 2017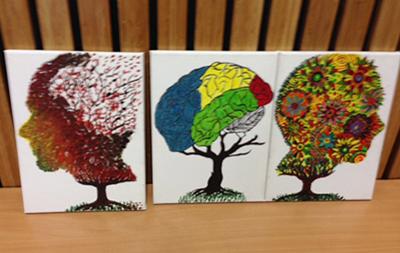 Biological Science undergraduates enrolled on the Human Brain and Society module displayed their creativity and understanding of mental health in an exhibition of their work, in collaboration with the University of Southampton Neuroscience Group (SoNG).
They were challenged to address stigma and other issues faced by individuals with mental health problems and their family, friends and colleagues. The students were asked to design an exhibit on a topic of their choice after meeting researchers from SoNG and encountering people with personal experiences of mental illness, through the innovative Human Library Project.
"The topics covered were ones that impact on many of our lives, either directly or indirectly, and included some superbly informative exhibits on depression and anxiety," says Lindy Holden-Dye, Professor of Neuroscience. "Students also tackled the misconception surrounding poorly understood conditions such as obsessive-compulsive disorder (OCD) and schizophrenia, which are often trivialised or demonised in the popular press. Posters, pamphlets, pictures, paintings, poems and even garments and art gallery style installations were used to convey these important messages."
Exhibition visitor Mark Gowland-Pryde was impressed: "It is fantastic how Science and Art can collaborate in such a way."
"I found the exhibit inspiring with many of the young people expressing their own and sometimes emotional feelings using art and science. Personally I was particularly moved by a young lady and her struggle with acne and how she used her difficulties dealing with it to help and inspire others."
The Human Brain and Society module is aimed at providing tomorrow's leaders and policy makers with a basic understanding of how the human brain functions and an appreciation of the importance of mental health for 21st century society. Topics include an introduction to how the brain works, memory loss and cognitive impairment in ageing and dementia, developmental disorders such as autism and attention deficit hyperactivity disorder (ADHD) and the role of the pharmaceutical industry.
http://www.southampton.ac.uk/courses/modules/uosm2016.page