'Business Links - Developing your Local Network' Event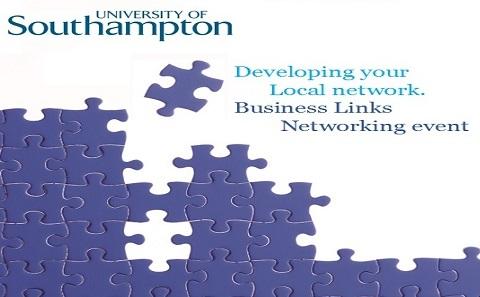 Date:

17:30 - 20:00, 19 January 2016

Venue:

University of Southampton Science Park - 2 Venture Road, Chilworth, Southampton SO16 7NP
View on map
For more information regarding this event, please .
Event details
The Careers and Employability Service hosts an annual SME networking event and this year it was held at the University's state-of-the-art Science Park. The event brought together 58 delegates from an extensive network of key decision makers, social entrepreneurs and leaders from small and medium-size enterprises. 'Developing your local network' provided an opportunity to connect with University staff and other local businesses whilst giving insight into potential development and collaboration. This year, presenters covered: LEP investments and economic priorities, Best environment for growing business, Local development and enterprise, Funding opportunities and the skills agenda and University collaboration. See below to find out who spoke at the Business Links 2016 event.
It was great to see such an excellent turnout for the SME Networking Event, and I very much appreciated the opportunity to speak on the University's success with the Knowledge Transfer Partnerships scheme. The event demonstrates that there is clearly a high demand from local business partners for University expertise, knowledge, graduates and skills, and I look forward to supporting new partnerships through a variety of modes of knowledge transfer and collaboration.
The SME Networking event was very useful in highlighting the opportunities for SME's. Services such as those offered by the University of Southampton are really important for SME businesses who typically do not have the HR infrastructures of large corporate businesses. Whether it be through work experience or knowledge transfer programmes I would commend any SME to consider working with the service to help them find the right skills and research relationships to improve their growth prospects and competitiveness.
Speaker information
Chris Allington, Managing Director, Oxford Innovation and Solent LEP Director, With a background in chartered engineering and purchasing management, Chris managed a number of restructuring projects with IBM, one of which addressed a surplus property issue. In 2006, Chris founded Fasset, and in March 2010 Chris was appointed Managing Director of Oxford Innovation. Under Chris's leadership, Oxford Innovation's portfolio has increased from 14 to 20 centres and delivers a unique offering to property owners and over 900 occupier companies. Chris has a personal passion for economic development. He is a board director of the Solent LEP and is deputy chair of its Employment and Skills Board.
Charlie Barton, Charlie graduated from the University of Southampton in 2011 and moved into a business development role working for an SME. In January 2014 Charlie returned to the University working in the Careers and Employability Service and is now the Work Experience Manager. She oversees programmes that are mutually beneficial to employers and students including the Excel Southampton Internship Programme, Student Consultancy and the Volunteering Bank.
Paul Webb, Managing Director and co-founder of TEKEVER Ltd, Paul has more than 10 years experience in the management of research and development for unmanned systems. Paul is Managing Director and co-founder of TEKEVER LTD, a start-up company that operates in the unmanned systems market. Paul has been involved in the research of unmanned systems across commercial and military domains. Of particular note is Paul's leadership of the communications and control theme within the SEAS DTC, a joint industry UK MOD research organisation. Paul has a degree in Computer Science from the University of Hertfordshire.
Phil Jewell, Phil is the University of Southampton's Knowledge Transfer Partnerships Manager and is actively engaged in every step of the scheme, from bid writing and submission through to project management and final reporting. He also manages a number of other knowledge transfer and funding schemes, including the University's EPSRC Doctoral Training Partnership, Doctoral Prize awards, and CASE Conversion studentships.
Rob Wood, Rob is one of the University of Southampton's Career Practitioners and one of his specialist areas is working with students who want to explore starting a business. He combines this with private practice as a career/business coach and doing a PhD. He is a Fellow of the Institute of Enterprise and Entrepreneurs (IOEE). For many years, he ran his own business providing corporate communication advice and support to SMEs, which he retired from in 2007 to pursue his interest in career coaching and mentoring. Rob created the Careers Service's Insider and Business Mentoring Programmes and is still active in their management.