Our Business Fair incorporates business, finance and management and is a highly successful event, appealing to students who are considering a future in one of these professions. This year it will be held the University's Jubilee Sports Centre (Building 18, Highfield Campus).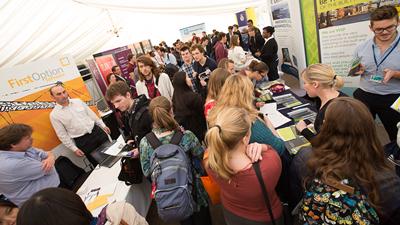 Event Details:
Date: Thursday 20th October 2016
Where: Jubilee Sports Centre, Building 18, Highfield Campus
Time: 11.00 - 3.30pm
Key Facts
Third sector organisations are also invited to exhibit, demonstrating that charities too, require a variety of professionals to plan and manage their business.
This combined event will result in over 100 exhibitors, who are all offering extensive opportunities to students.
Who can attend?
The Fair is open to all students regardless of subject and/or year of study.
Many of the business companies are often looking to recruit for various roles both on graduate schemes and internship opportunities e.g. a financial firm may have opportunities in sales, human resources, marketing, communications, business intelligence as well as finance.
The Fair is a great chance to meet Third Sector organisations offering a wide range of alternative opportunities, with organisations exhibiting including local and national charities, not-for profit organisations and international volunteering companies.
This Fair is an ideal event to find out what volunteer or paid roles these organisations have to offer, how your skills can benefit them and the wider community, as well as learning what skills and recognition you'll receive in return.
Exhibitors
Please see the 'Useful Downloads' section for a copy of the 2015 Business Fair Brochure document. The 2016 brochure will be uploaded onto this webpage at the beginning of October 2016.
CV Clinics
How confident are you about your CV? It might have served you adequately in the past but competition for graduate positions is fierce. Don`t risk losing out on your dream job because of an average CV!
You can receive expert CV advice provided by exhibiting organisations and Specialist Career Practitioners during the Fair. Take advantage of this opportunity to differentiate yourself from the crowd and learn how to make the very best of your experience and achievements.
The sessions will be held from 12.00-15.00 at the Careers Centre, Room 2001, Building 37
Jobs Board
The Business Fair exhibitors will be posting their current opportunities on Careers' Jobs Board in the Fair venuer. Students are encouraged to use their smartphones to photograph the advertisements and the QR codes will direct you straight to exhibitor websites.
Prepare for the Fair Talk
Careers fairs are an excellent forum to make direct contact with employers - but it can be overwhelming if you do not know how to approach it. To make the most of this opportunity and learn how to follow-up promising first encounters, sign up to attend the Prepare for the Fair session.
In 2015 this session was hosted by PwC.