Phone:

(023) 8059 3332

Email:

philip.gale@soton.ac.uk
Professor Philip A Gale MA DPhil DSc (Oxon) FRSC FRACI CChem CSci
Head of Chemistry, Professor of Supramolecular Chemistry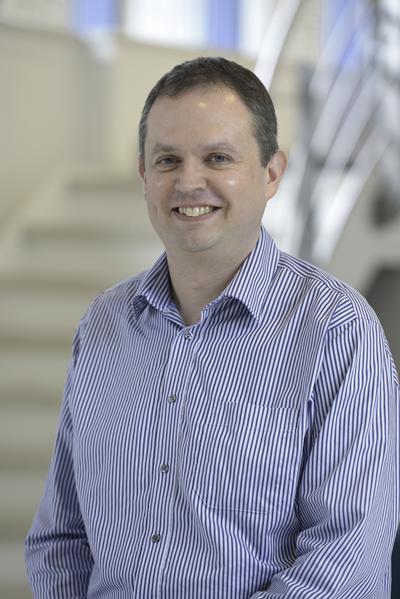 Related links
Professor Phil Gale is Head of Chemistry and Professor of Supramolecular Chemistry at the University of Southampton. His research interests are in the recognition, sensing and lipid bilayer transport of anionic species.
We are proud of the achievements of Chemistry at Southampton and the quality of our research and teaching.
Philip A. Gale received his BA (Hons) in 1992 and his MA and DPhil in 1995 from the University of Oxford. In 1995, he moved to the University of Texas at Austin where he spent two years as a Fulbright Scholar. In 1997 he was awarded a Royal Society University Research Fellowship and returned to the Department of Chemistry at Oxford. In 1999 he moved as a Lecturer to the University of Southampton and was promoted to Senior Lecturer in 2002, Reader in 2005 and to a Personal Chair in Supramolecular Chemistry in 2007. In 2014 he was awarded a Doctor of Science degree by the University of Oxford and was listed by Thomson Reuters as a Highly Cited Researcher in chemistry in both 2014 and 2015.
Phil's research interests focus on the supramolecular chemistry of anionic species and in particular the molecular recognition, sensing and lipid bilayer transport of anions. Transmembrane anion transporters have potential applications in the development of future treatments for cystic fibrosis and cancer.
He is the author or co-author of over 200 publications including an Oxford Chemistry Primer on Supramolecular Chemistry with Paul Beer and David Smith (1999) and an RSC Monograph in Supramolecular Chemistry entitled Anion Receptor Chemistry with Jonathan Sessler and Won-Seob Cho (2006). He is the co-editor in chief (with Jonathan Steed) of an eight volume reference work published by Wiley entitled Supramolecular Chemistry: from molecules to nanomaterials.
Phil has won a number of research prizes including the RSC 2014 Supramolecular Chemistry Award, a Royal Society Wolfson Research Merit Award (2013-2018), the RSC Corday Morgan medal and prize (2005), the Society/Journal of Porphyrins and Phthalocyanines Young Investigator Award (2004) and the Bob Hay Lectureship (2004).
In 2010 he was awarded a JSPS invitation fellowship that he took up at Kyushu University, Japan in 2011. In 2012 he was appointed as a guest Professor by Xiamen University, China (2012-2014), giving the prestigious Tan Kah Kee chemistry lecture there in 2013. He was awarded a University of Canterbury Erskine Visiting Fellowship and spent two months in Christchurch, New Zealand in 2014.
Phil serves as the Chair of Chemical Society Reviews Editorial Board and is a member of the Advisory Board of Chemical Science. He is also the co-editor of the journal Supramolecular Chemistry, and a member of the international editorial advisory boards of Coordination Chemistry Reviews and the Encyclopaedia of Supramolecular Chemistry.
In 2004 he joined the International Scientific Committee of the International Symposium on Macrocyclic and Supramolecular Chemistry (ISMSC) and organised this meeting in the UK in 2011. Phil is also a member of EPSRC College and served on France's ANR Laboratories of Excellence Jury in 2011 and 2012 and the mid-term review in 2015. He was a member of the management group of COST Action CM1005 Supramolecular Chemistry in Water and in 2013 served on the ERC Consolidator Grant Panel (PE05). In 2012 he was elected chair of the RSC Macrocyclic and Supramolecular Chemistry Group.