Merchant and naval ships, leisure craft, offshore structures, wind/water energy harvesting structures, submarines, submersibles and, even, fish and swimmers are typical examples of engineering systems that we consider. Our work encompasses hydrodynamics, structures and materials and their integration for the design, production and operation of these engineering systems, taking into account environmental, economic, social and safety related factors. Consequently, apart from engineers, we work closely with a wide range of scientists in the UK and abroad, such as oceanographers, biologists, geographers, economists, and marine archaeologists, in both our teaching and research activities.
Protection of the environment provides an important motivation for our endeavours and interests. Development of low carbon marine systems, more efficient/alternative propulsion systems, wave and wind energy extraction methods and systems, new materials sustainable over a life cycle, and carbon sequestration are examples of such initiatives. These activities inform our teaching and provide our students with opportunities in carrying out projects in exciting and stimulating areas that are important for the future of engineering and the planet. They also provide a platform for developing and applying our multidisciplinary research methodology.
Largest UK University partnership with Industry

World-leading expertise from the University of Southampton and Lloyd's Register is being brought together in the largest research collaboration of its kind in the UK at our new Boldrewood Innovation Campus. Drawing together the engineering excellence of both organisations in a new research hub in Southampton, the collaboration will focus on innovations in transport, energy and the environment. Academics and industry experts will combine forces through the entire process of identifying and researching challenges faced by businesses and communities worldwide to deliver solutions more effectively.
Fundamental and applied research on the behaviour of marine structures is the main focus of our efforts. This includes, for example, prediction of wave-induced motions and loads on mono- and multi-hulled vessels and offshore structures, investigation of the behaviour of light weight and composite structures, hydrodynamics and aerodynamics of sailing craft, manoeuvring and control of surface ships and underwater vehicles and various problems associated with dynamic events involving violent flows, such as sloshing and slamming. Our research investigations are carried out through a combination of analytical and numerical modelling and experimentation. We have built up a solid base of expertise on marine computational fluid dynamics which can be used to simulate the behaviour of a wide range of problems, such as tidal turbines, wave energy devices (e.g. the anaconda), ducted propellers and swimmers or canoeists. With reference to the latter, it should be noted that the Performance Sports Engineering Laboratory is lead by the FSI group. Environmental factors are the main driver for research activities, such as low carbon shipping, marine renewables, carbon sequestration, bioinspired propulsion and kite propulsion. Exploitation of new materials, such as sustainable composites and magnetorheological materials, with associated methods in experimental mechanics is an important part of our research activities. Activities based on concurrent engineering, risk based design and life cycle modelling provide a platform for synthesizing our research results towards economic, environmentally friendly and sustainable marine systems.
Our main consultancy outlet is the Wolfson Unit for Marine Technology and Industrial Aerodynamics (WUMTIA)with a worldwide expertise in ship, yacht and small craft design and experimentation. Example activities include investigations of the structural failure of the containership Napoli. Unit staff bring their particular knowledge and experience to our teaching and research.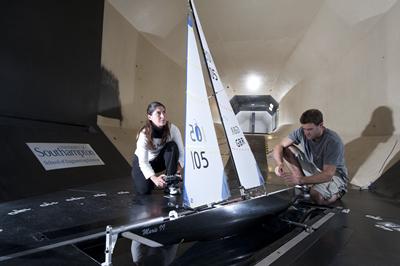 The FSI group provides the academic lead for the wind tunnel complex.
We also carry out consultancy through the Research Institute for Industry (RIfI). Example activities include practical testing of optical fibre strain gauges, experimental testing of composites, developing full-field non-destructive techniques to assess damage evolution in small-scale pipework and the hydrodynamic and structural integrity analysis of a wave energy device.
Examples of formal collaboration with Industry include the Advanced Technology Partnership with RNLI, the Centre of Excellence in Marine Structures with Lloyd's Register, MoD and UCL and Performance Sports Engineering with UK Sport.
The Lamont towing tank and the Southampton Solent University towing tank are used by our undergraduate, postgraduate and research students for their experimental investigations of ship behaviour. We are in the process of building a brand new 135m towing tank at our Boldrewood Innovation Campus.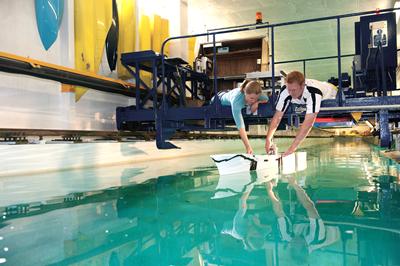 The Faculty's wind tunnel complex is also used in experimental aerodynamics related to sailing yachts and ships. We have recently developed our own drop test facility for investigating fluid impact problems.
The Transportation Systems Research Laboratory (TSRL) provides a range of facilities for experimental mechanics related to light weight and composite materials.
The Engineering Design and Manufacturing Centre (EDMC) is used to provide models and supporting materials for our experimental activities.