We are looking at how vets and farmers talk to each other and the role of farm assessors to find ways to improve the uptake of veterinary advice. If we don't understand the communication between farmers and such third parties then we won't be able to challenge and improve existing practices to reverse the increase in AMR.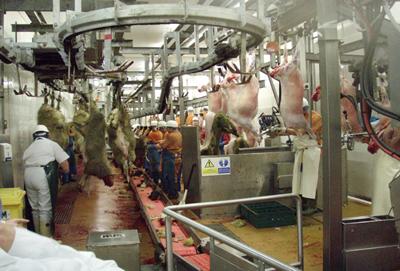 Encouraging farmers to improve animal husbandry and adopt veterinary advice remains a critical challenge for animal welfare improvement. Advisors who can understand the farming context, compellingly communicate ideas, and engage farmers with beneficial practices are essential. Similar challenges are faced by the medical profession who are increasingly employing a technique called Motivational Interviewing (MI), an evidence-based framework for promoting lifestyle changes to improve public health and community welfare.
This research considers the applicability of MI to the veterinary profession, defining and evaluating possible methods for increasing the uptake of advisory recommendations.
This research is funded by the Animal Welfare Foundation British Veterinary Association. The research is with Kristen Reyher (PI), David Main (Co-I), Beckky Whay (Co-I), Anne Haas (Co-I). The research is being carried out by Alison Scrase.
Barriers and motivations to treating lame dairy cows from the farmers' perspective.
Many farmers struggle to find the time and space to fit a foot block because it is easier to administer antibiotics.
Dr Emma Roe's work, along with collaborators, Dr Becky Whay and Dr Sue Horseman from the University of Bristol, shows that to avoid using an antibiotic injection we can, for example, trim a lame cow's foot so infection can drain to the outside then stick a wooden foot-block on to take pressure off the infected part so it will heal, as shown in the image.
Dr Roe's research examines ways of improving multi-species welfare: studying cognitive, emotional and physiological relations to maintain good human and animal health in the food system. We have created a world where clean surfaces are good, dirt is bad and we have been crafting 'nature' to reflect this position. However the increase in AMR bacteria is a reminder that we can not control 'nature' but instead we must act as ecological citizens because we are all part of the same biome and the invisibility of the microbiome should not always be seen as a threat.
Click here to hear talks on this research by Dr Emma Roe and colleagues
Funding by Animal Welfare Foundation, Dairy Co, AHRC.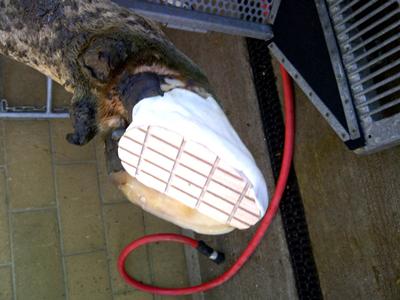 Image of cattle foot block courtesy of Heather Thomas
Where next?
I am interested in examining surveillance networks across different environments and across international boundaries in the movement of animals entering the food supply chain, ranging from animals on the farm, transport, abattoir and further processing of parts of the carcass. The incredible journeys that parts of the carcass make increases the risk of infection spread. The increase in AMR is driven by a globally complex movement of parts from the meat carcass that fluctuates seasonally, nationally and by breed. It would be good to identify any part of this dynamic that might be willing to be adjusted so as to reduce AMR.
NAMRIP member Dr Emma Roe, Social and Human Sciences