Life Sciences building wins prestigious RIBA Award
Published: 

20 May 2011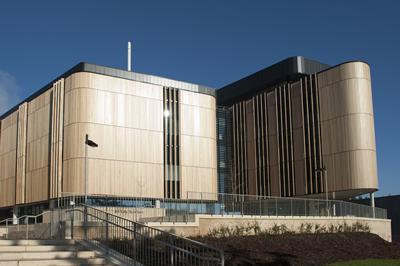 The University of Southampton's Life Sciences building has been awarded a top architectural prize.
The Royal Institute of British Architects (RIBA) awards are presented to buildings that have high architectural standards and make a substantial contribution to the local environment.

The Life Sciences building has been recognised by RIBA for its 2011 Awards along with three others in the south of England.

The £50 million investment on the Highfield campus opened in September 2010. It provides a new integrated research base where life sciences staff and students can expand their academic interests and activities by working with scientists and engineers from other areas within the University.

Peter Smith, Director of the Institute for Life Sciences which is based in the new building, comments: "This brilliantly-designed building is not only energy efficient and sympathetic to the environment, it also provides an inspirational space for creative thinking and learning."

Commenting on its design by architects NBBJ, the RIBA judges said: "The building is active at every level – well lit, with intriguing perspectives and it works well environmentally and, just as importantly, acoustically.
"In bringing together students and academics from the Schools of Medicine and Biological Sciences, with additional research groups from the School of Electronics and Computer Science, the building reflects the University's cross-disciplinary research vision."

Kevin Monaghan, the University's Director of Estates and Facilities added: "The new Life Sciences building enhances our Highfield campus and makes a clear statement about how we are delivering 21st century science in a sustainable and inspiring physical environment.

"The project, developed on a severely constrained site, was delivered on time and within budget. Recognition by RIBA demonstrates that great design can be affordable and extends the University's success in achieving recognition for its commitment to high quality in its built environment. Our thanks are extended to all participants in the project."

The Life Sciences building is now eligible to be shortlisted for the RIBA Stirling Prize for building of the year, which is announced in October 2011.
For more information: