How are your tuition fees spent?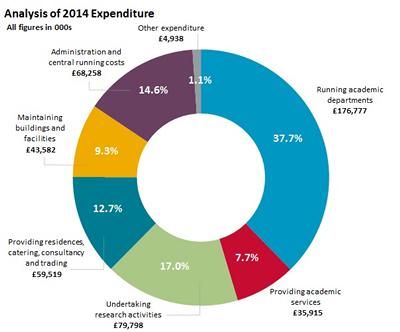 Did you know?
In the last year, the University spent:
Developing student accommodation
As part of the residences strategy the University has also invested in the delivery of Mayflower hall of residence. The new student accommodation comprises three residential blocks of up to 17 floors, houses 1,100 students a year and includes a shop and gym. The build represents a substantial investment in the city.
Developing student learning spaces
The University has converted a former seminar room on the west side of Winchester School of Art into three smaller seminar rooms and on the east side to fit out another room into a "Harvard" style seminar room. All new seminar rooms have improved ventilation, light, acoustics and IT and provide access to the latest audio visual equipment. In addition to this is the inclusion of a small "interview" room and the reformatting of a corridor to provide "meet & greet" facilities including a beverage area and easy seating.
Developing our links with industry
Of the £47m spent on acquiring or constructing capital assets, the largest single item of expenditure was a further £24 million investment in the joint development with Lloyds Register of a world class facility for marine and maritime teaching and research at the new Southampton Boldrewood Innovation Campus. This takes the total investment in the Boldrewood facility to £105 million at 31 July 2014. A further £15 million of spend is anticipated.