Nur Amalina Zulkiflee BSc Mathematics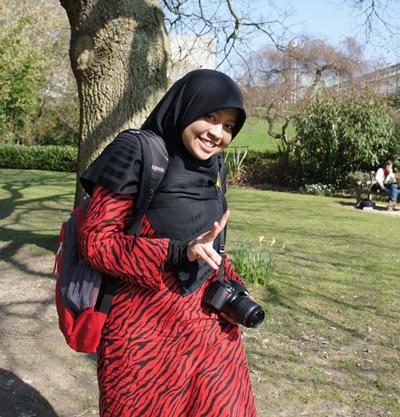 The living cost here is affordable and it is easy to get foods and necessary things here.
What attracted you to the University of Southampton?
University of Southampton is the best choice for me because the facilities are good, systematic administration department, peaceful study environment and affordable living style. I decided to do my course because the module provided by my school (Mathematics) are interesting especially Number Theory and Coding. The best thing about the university is that you can join any activity organised by clubs and societies and you can mix with local and foreign students without any sentimental issue.
What do you enjoy most about living in Southampton?
The living cost here is affordable and it is easy to get foods and necessary things here. You can live with sunny weather (especially during spring and summer) as Malaysians really get used to summer season all the time.
Did you find anything difficult or challenging while studying and living in Southampton?
I had difficulties in time management. As a mathematics student, I need to do a lot of assignments and at the same time I need to handle Malaysian Student Society (MSA). But it is worth to work for your own national society as you can get experience and enhance your leadership skill. To overcome this problem, I needed to create a timetable and do some "important-urgent" table so I could be more alert about due date and etc.
Did you receive a scholarship?
I received a scholarship from Malaysia Government and I also received a scholarship from the School of Mathematics. Some of my friends and I are involved in a meeting with International Office her helping them to promote the University of Southampton Malaysia Campus (USMC). I was so grateful for being selected as one of the committee to help in promoting and marketing USMC.