| | |
| --- | --- |
| (28/02/2008): | The application process is now closed. Two teams of 5 students each from the School of Engineering Sciences have applied, and all have been accepted to take part in this event. |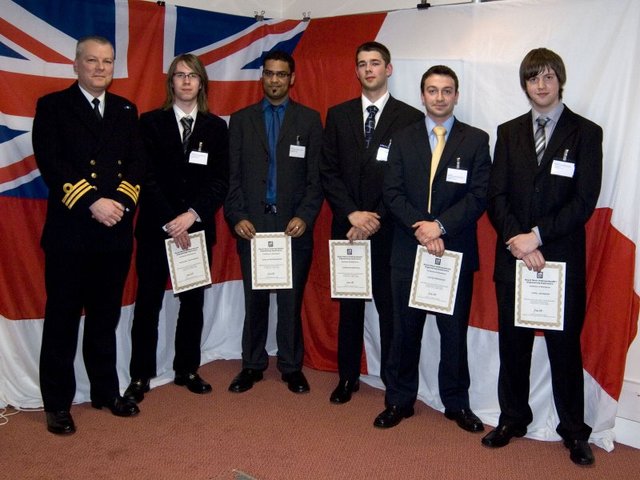 Anonymous report A from a student participating in 2007/2008:
From the first lecture to the last, the Royal Navy Undergraduate Engineering Experience expected a lot from the undergraduates taking part. In all, 39 students attend from universities throughout the United Kingdom.

The challenges set for the 8 groups of students ranged from planning an Antarctic expedition, where dates, cost and route chosen was essential in convincing further sponsorship, to deploying a type 23 frigate to the Malacca straight to provide both aid in a disaster and security for one of the biggest trade shipping lanes on the planet.

All this and more was achieved within 48 hours, as well as all the students learning some of the requirements of a naval officer and gaining a close up view of a type 43 frigate destroyer.

The many skills and tools learnt over the weekend include teamwork, leadership, delegation, planning tools, time management, and prioritising of key requirements and desirables. All of which will be invaluable in any walks of life. All this was offered with the participants having fun throughout as a key requirement; the lessons learned by the students could be invaluable in later life.

I would definitely recommend this experience to other students.
Anonymous report B from a student participating in 2007/2008:
The Royal Navy Engineering experience is a fantastic opportunity to find out for yourself, hands on, if a career in the senior service is right for you.

My own experience (and yours may differ) involved a number of team challenges including planning an expedition across the Antarctic, the deployment of a warship on a anti piracy patrol and then subsequently re-deploying it in a disaster relief role. Aside from the activities, we had the chance to experience life as an officer in the mess, complete with silver service! As well as a visit to the Type 42 Destroyer HMS Exeter.

Although you may find at the end of the week that the Navy isn't what you want out of a job, I'd still recommend the experience; it was a fantastic way to talk to the people that do the job every day, and much more fun than a campus presentation.