Optimization
Optimization: for a function f(x) we are looking for xm such that f(xm) is minimal (locally or globally).
You may want to read section 14.7 Optimisation in the lecture notes for a brief introduction to function optimisation using fmin.
The program dips.py can create the following contour plot of a function f(x,y) (pdf, png):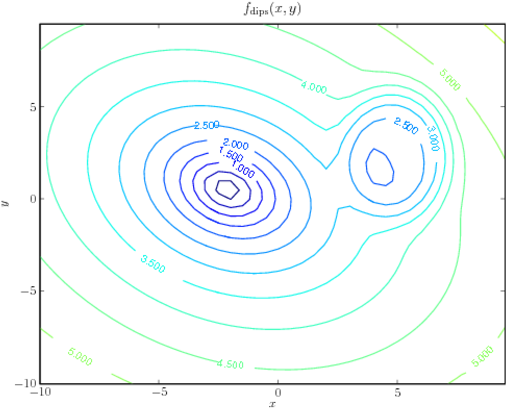 and can use scipy.optimize.fmin to find a minimum:

Optimization terminated successfully.
    Current function value: -0.310155
    Iterations: 63
    Function evaluations: 116
[-2.13332808  0.53330643]

The minimum fmin finds a local minimum at (x,y) = (-2.13332808,0.53330643) with a function value (f(x,y)=-0.310155.
Exercise
Find (an estimated of) the position of the other minimum.
Which of the two is the global minimum?
There is nothing to submit for this lab.