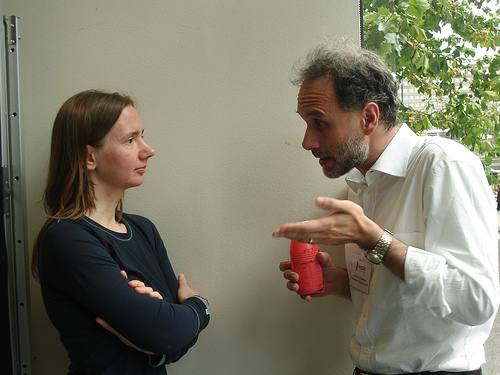 mc with Vladamiro Sassone at WSRI meeting, London Sept 08
photo by Ben Shneiderman
FULLY FUNDED UK PhD-ships - in HCI/CS/WELLTH
News! WE HAVE FUNDING FOR YOU!!
Keen to design the solutions that will bring the world better health and wellbeing? Fascinated by mobile, pervasive, ubiquitous, tangible, incredible, interactive technology? May wish to explore how to blend data, ai, cog sci, sports sci, computer sci, sensors, a fish, everything and anything - please email me and
APPLY TODAY
We are moving the science, engineering and design of Wellth into the World - for good.
#makeBetterNormal @mcphoo
Academic Bio
prof m.c. schraefel, phd,fbcs, ceng, cscs (lower case deliberate). Professor of Computer Science and Human Performance, Fellow, british computer society, Research Chair, Royal Academy of Engineering, Chartered Engineer.
Head, Agents Interaction and Complexity Group And now a wee bit more: Deputy Head of Department, Research, and current REF champion (for those in the UK) for CS.

Wellth Lab Research FOCUS - How to design information systems to support the brain-body connection for lifetime quality of life, including, fitness to learn, fitness to play, fitness to perform optimally, always; to understand through these paths how to enhance innovation, creativity and discovery.

A few very short papers that might help contextualise these aspirations are
Interactions piece - about challenges in interaction design for what i've been calling "wellth" - wellbeing and health that is performance rather than prevention oriented.

A piece in IEEE Computer about opportunities in this space for Computer Science
a translational piece in Interactions again about opportunities for HCI/CS to consider how to translate what we know about sports performance to knowledge work.
Related Work - interaction design for data-driven (vs document driven) web-based systems for knowledge building. /p>
Other Quals: I'm a certified and practicing strength and conditioning coach (CSCS), kettlebell instructor (RKC II, SFG II, KFF CKT), a certified nutrition coach (Pn1) and, particularly germaine to the research, a movement coach (CK-FMS, ZHealth Master Trainer). I *may* be the first computer scientist to draw blood - for science, of course.
If you're a prospective grad student, and this area of work sounds appealing, please see the Students FAQ page.
If you'd like a three minute overview of Human-Systems Interaction Research (and a quick tutorial on how to deadlift and swing a kettlebell):


vid: Feb 2012
other
Practical Quality of Life As part of my interest in designing systems to support & enhance Quality of Life, i've been exploring how to encourage 20-something grad student desk bound geeks to think about health and fitness. Hence the IAMGeekFit site, and my various certifications. I'm pleased to say my pull up count is above 1.
Favorite Computer Tool Besides all things Web and of course flying toasters, spell checkers. Computers can help us communicate. Spell checkers prove it.
Public Key


         
    updated oct 26 2017     
         -----BEGIN PGP PUBLIC KEY BLOCK-----

mQINBFnx7T4BEACZ9Mc+PLvg5Xg/AaPjuCPC9mioIHU+C0qCezTnv82gt52KDqHx
3TS2zwgXFck/Hm6K48eFg3oRwSTlU/xPiqq1wO7LV3zRnIPwoEQFtT0gSG4XKF3j
98I2RrkY+UXSgmLbGGFsqTPB29EJdCoUQNGmZmTQj3mIBJm5wWALhB0ed1teJsPh
s3MMSH/pD1rps1PywFzryI4vaKPUoD2p0n/r3aP/4XLUhUK+6ilHrIkDw7U+sXWL
7BlTTy4HAbIV9Weewed71w2iZ+16cQZG07/bXEfcW7nVtsHldOti4hkVRyXqb9Yj
M8cpIDXhuk4je2BEqrYzlzbuNTwMvN9y9rnCxLkYSR2DZwuCMGe2nx+GY9l5MVVu
h6Bltv13izWItymvXkSZZXH5gDwvLHdtroKOupXLHAMnSE9heTnR7Me4TJ65SNKV
0A13qFk7aOMfAWNYSXHpfC8hI2hBuspWJNZF0I758XTRNrlYOLCiGX0C/oENbjzZ
QSQ/fHon8VhwyOsZCosxTzbPok+4AiMVp13G6uLvTfHm9wmq5aWRg27FN/AExe92
bSfDuWV3Ry4SvVaMGivDjuI+S7AsNYmTMVTpwi+qINr/cF54I9sF9qIo/LVd9XyZ
/bl9lvaS71Zoydqoi8oQz+MK9CHIYcs03v9SjEIRkK7CBci5B6ZUY4/1dwARAQAB
tC1tLmMuIHNjaHJhZWZlbCAobmV3IGVjcykgPG1jQGVjcy5zb3Rvbi5hYy51az6J
AlQEEwEKAD4WIQQKgrF8qohTNSFVfCfxVAuTp9bdwgUCWfHtPgIbAwUJB4YfgAUL
CQgHAwUVCgkICwUWAgMBAAIeAQIXgAAKCRDxVAuTp9bdwluJEACGdZn+bYCUHRkS
Cuj0e7RIEQZ7T41Cbp+iP/G0XpWDdZz2tSIpMw+xzpDvIn2rmYxy2akOVy9zkO33
RS72rALum1xhFOgp+D2b7IMYsKqHJk8QyRaSWUOA0h1YOepztvGV/wF2lLOEiC3B
XA7gwgVX+JE4BDWR8GXTJC/ssiPGHrdOqwS3iMwvndZMv8h+k8gTNIs2Ai92xxew
fmaYC497JtSsRV4dcHzl7/R7p07plFTQe/mV3NbeY6y2V3+3/v2g49NxEmz6oZ6J
8YAZS/HElP4c4kyNlf807DjoTagRvFPW9fkRmBo2oG3frIallty+1ii7k4WE80dm
8lsZPek0++5qJQYA5nZqRUSRVOTvvP7Digeth5pGymayg+ADSpvAv4zkQXsi3Rwr
Sw+85fX+N70u4BZMHLsgvawu2lPU8pgKoewE+GrfZ86O1vdebBdySQTepouJTOkS
orMSPrTD/pdM1QcjNT6glDlHDKm2JngTVkHFuUa79HHtsgCv25jSDEDZMTV0i5aN
GahpVpYezCTW5AuzUivRWtlAayVHvTTTdcNUWVwPIHEsoh5N2Ht289k6UGVe18Q2
Skj00WprDPeoV7ZSHYctMHIZOjoKfl1F32pg7b7N5hxNmPAN6ksEQrnc8AHeoSCJ
wRKOQyLnuxPUxehgJ4mN7mY5Sr1+D7kCDQRZ8e0+ARAAteIhdddq+vpGmNvGnfP4
tSIEa4KVQk5NmuaJYm0t/YuGeSJTdP7BCM/gcJCNdZWyzBKz5DbYdoWygy4D03jj
9nt/Y/BKC/AJRoSwCXLKX2JTcXyeNvpHliV+nalSHOiNIf1LRAxDfcz9kxFHA2p3
UXF4+///hs4aUccTeEtoyEQjtyAtLtQJl+zLCtlp22CpeWMeJvD2/sisfaPVgbUw
jHaO3wpG/tFdVhMrlLOE44b/3H6nW5AOVdCJKclLBRVJej7/eaTYTuboVbiLyj/b
gUQOo3i+uDar3QFk1t2QSqTPrzdJGDd4gfsnLDfKrSSUpf9PruOUHiuj7IxoblA4
WVmaDEoojhEKJR68PNTJTiRuKaLVnag+oa5CCmTncFUfdi4VuNrxjo5W8oEfDMyb
La8Ebno+rc0Hcosw6lrLMcPL6cOhHPcYw0Qwk4YtKUxCL4FTAVayrMIwRQFgPFO/
8jNPk/uWVE7KSqD4VgsJrxK7TXhNukVeNmTplDbkPpLBm8T3hMysQagdhuLBcplh
N26dGbDNBLxBVQAdU/0Whr60Kev/hXCs0ZejAOzJgGzQC8QwfzjEWgiKovGRSYZw
gxXu7eQt6Btu7A/zkhSYhLLmwoj/bN95CwAMwpz2icgOGazIQswMwlvAVVihjQTk
T+cmcqvyj4Ap/Fy7A6m4K4EAEQEAAYkCPAQYAQoAJhYhBAqCsXyqiFM1IVV8J/FU
C5On1t3CBQJZ8e0+AhsMBQkHhh+AAAoJEPFUC5On1t3CnTIQAIV/sDDkxK1xX+fL
42nHagzwrND5Cr+r3JJtTlB77sKMQrIXkjHsuSjHcKS4uXgrz2WBITahPrsulnmH
xD6BGJxuFYHvle0X7DnFpbDVCTq6Ph2uW8SwYkYnnBAaAcjva/vdyCAab1gZLtgw
TIm2eRi70BK9b6N+J4k4BymyjFon7bqyAeSZzBdHU/ARf4u/MTT5xjSBwPYOYrzN
OscOd0KzD0cvnkfnTHfpbFQ9zYC8mPBlrrQN9CGDWXSl6Saof/yc1WjtGjRk2mz4
vYC11ydxEpn/9ha0qbiV2eqPPjJIZQGSy4p0WTPoandQ+NE2kj30W37hiw+eElJ2
WvUCmG5Jf66Cd+nlP4UKM3lOrjWEYISU7G88AcauZd2iljnBlHOEReDryjkV7Avn
JW81ADZ3puHcMtT+ZCJMoyL3ts+kfBIQkc2pYL9PiAou0rgoEfQzURKWQ04/0ynC
c6B85tZ2w1q9VtjjS11dNrvs9fkVNlPsXERmjfJHo3SuB2hOS7iNmvIG7Oxes711
/HuhwEEnn7NqynDApNESKuT7CWg0zX9OqI8oTe8rrcJbKB7arnTbhGSA19NigzFA
SgR5EQuafkWdiRr9riZMvPeHq2yH8Zit/aJqvs/23Lq4Bi//9WSk81n1bfSe1WXd
Nz3qZK0tWB5rUGtnEoOqH3eHZN/j
=79Cq
-----END PGP PUBLIC KEY BLOCK-----