Hi guys!
This is my last blog post before Christmas! It feels like this semester has gone so quickly and now I'm getting stuck into revision for the January exams…
I thought I'd try something a bit different for this post. Some of you may know that I have my own YouTube Channel and I had this idea back in October of a badly drawn, fake-serious '12 Days of Student Christmas' video.
It took me a really long time as it was my first shot at crude animation – so I hope you like it!
You can find the lyrics in the video description.
Merry Christmas and a Happy New Year!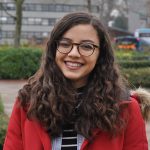 Georgia