Hi everyone!
For this week's blog post, I decided to celebrate National Libraries Day which, in their own words, is an annual showcase of all the creative, innovative and diverse activities that UK libraries have to offer.
I've made a video showing my favourite study space on campus: The Turner Sims Reading Room at Hartley Library.
You can check it out below – I hope you enjoy it.
Let me know what you think!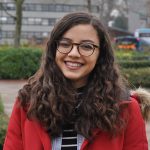 Georgia