There comes a time at university when you have spent so many hours in the library it starts to feel like a second/third home. This usually happens in your third year when you have a major deadline, such as your dissertation. Fast forward, you hand your dissertation in, and suddenly you don't need to be in the library 8am-6pm every day – what happens then?
I'm still trying to figure that one out.
The inevitable and dreaded deadline for my dissertation hit me last week, and although there is still work to do before exams, I have found myself in a position where I don't know what to fill up all this extra time with!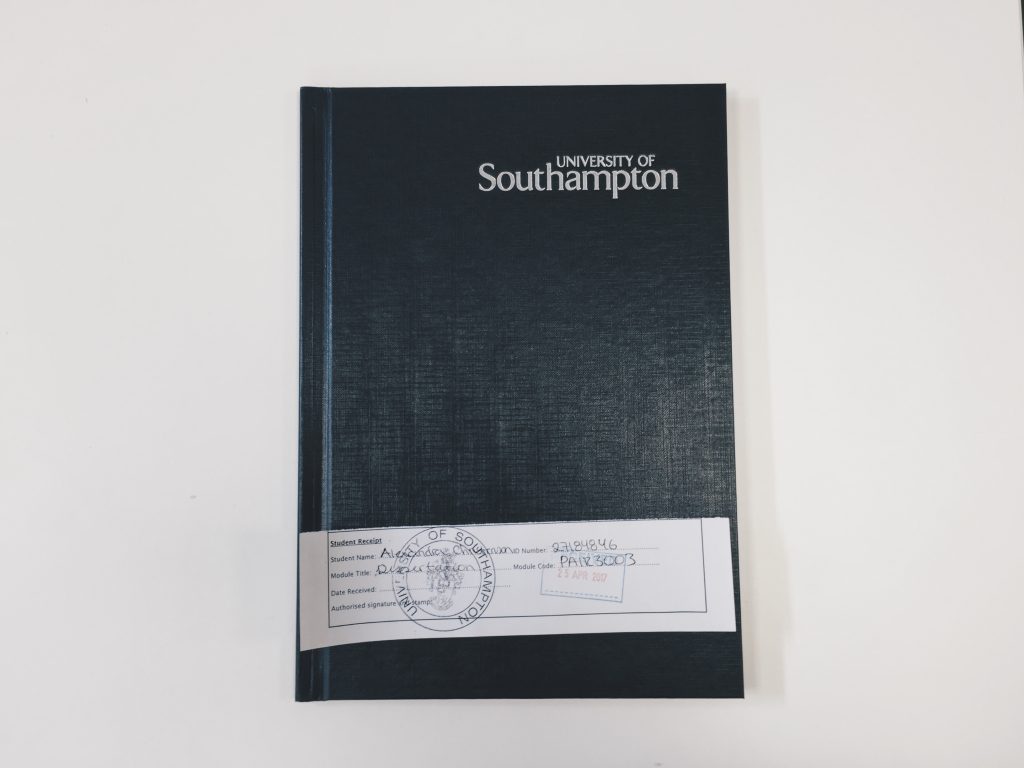 As I say: pics or it didn't happen! I'm allowed to be proud of 10,000 words of work.
All of this has led me to consider what I've actually been doing since I handed in my dissertation, besides sleeping. The answer?
Eating.
Eating out
Okay, so this list consists entirely of things involving food, but hey! In Norway, we say "the hero can't function without good food and drinks", which rhymes in Norwegian so it makes more sense, but I'm sure you get the point. I usually only eat out when the occasion calls for it, and I very rarely get takeaways; with the huge number of tempting restaurants in Southampton this is not always the easiest habit to maintain. My wallet thanks me for it though, especially because I haven't always been as thrifty!
However, as I have expressed before on the blog, I wanted to try out the new restaurants in the Watermark development at West Quay, and now I have! Last Friday was one of those days where I fancied Greek food so much I could smell tzatziki in everything (I know, weird). My Greek go-to is Sula's in Portswood as they are reasonable and make authentic Greek food, but I decided it was time to try somewhere else as well. The choice fell on The Real Greek, which just opened in the Watermark.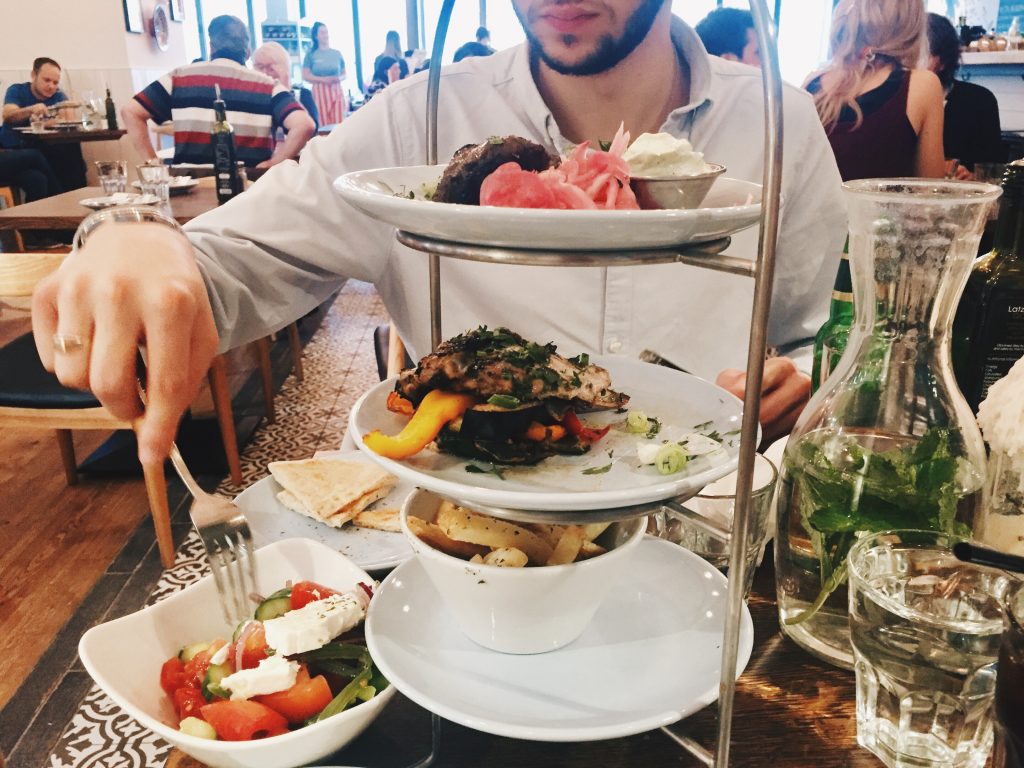 A quick snap of our food (after we started eating).
I firmly believe the value of this blog comes from the fact that all views expressed are frank and sincere, which is why I'm almost a bit disappointed when I need to say that I wasn't very impressed by this restaurant. The menu is filled with traditional Greek dishes served as mezze (tapas) and the service is brilliant, but the food didn't live up to being 'Real Greek', in my opinion. It was also a bit pricey for what we actually received, but that should probably be expected considering it's located in the Watermark. That being said, I did have a lovely time, and I'm sure I will be returning for a drink seeing as they serve Greek beer, much to the excitement of my half-Greek boyfriend.
Food shopping and cooking
This might seem a little odd to some, but bear with me. You see, one thing I neglected during the most intensive periods of writing my dissertation was food shopping and cooking in general. "Simple dinners and quick trips to Sainsbury's" was my motto and I don't recommend following it.
I'm now taking huge pleasure in roaming around Sainsbury's for ages, followed by a trip to International Foods in Portswood for fruit and vegetables, and then actually spending more than thirty minutes on cooking. Cooking for myself was one of the most daunting things I could think of when I moved away for university, and admittedly it took some time to get used to anything beyond making pasta every day. However, with practice, cooking became something I thoroughly enjoyed – who would have thought?
Pro tip: the big Sainsbury's in Portswood is most students' one-stop-shop for food, but the fruit and vegetables at International Foods just a minute down the road are a lot cheaper and just as good (if not better) quality! In addition to this, there's a farmers market on campus every week where you can buy things fresh at a good price.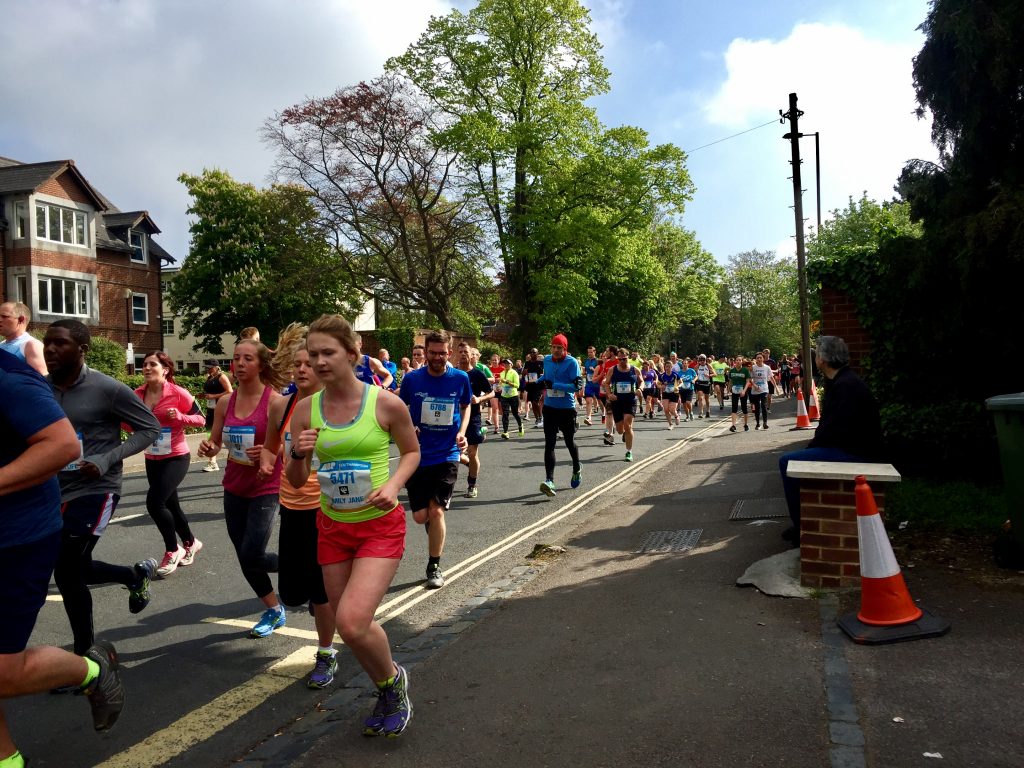 You already know what a supermarket looks like, so here's a shot from the Southampton ABP Marathon passing my house a few weeks ago.
Not pictured: me experiencing mid-dissertation madness.
How do you celebrate finishing a big deadline? I'd love to know if other people than me celebrate by eating. A lot.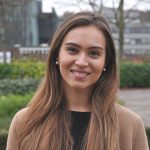 Alexandra