Last month I could not believe that I was purchasing a ticket for my University grad ball. At the time, I didn't really think anything of it with the flurry of exams and whatnot but, as the evening drew closer, I found myself day dreaming – or rather stressing – about whether my outfit was suitable, or if I'd be able to walk in my sparkly gold stilettos (the answer was no… no I could not).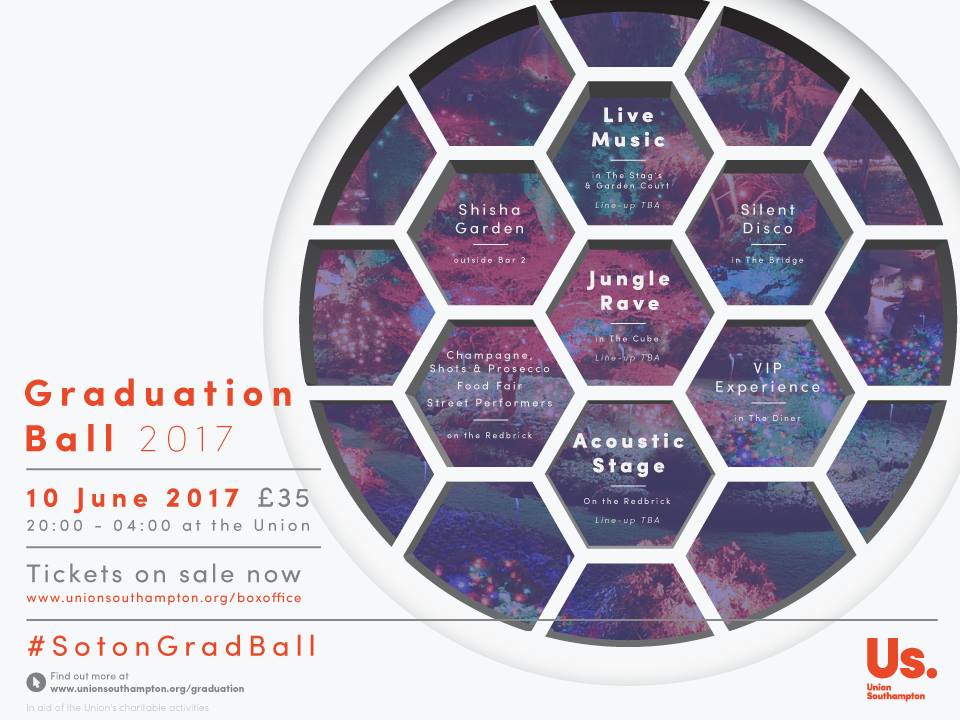 Lovingly organised by the Students' Union.
Before the event
I had visited home in the few days prior to the night itself and spent some quality time with my family and friends: going out for fancy dinners in London, watching ballet at the Royal Opera House, unpacking an endless number of boxes and, of course, voting in the 2017 General Election.
It was immensely enjoyable seeing everyone work-free, but equally I was excited as ever to hop back on the National Express coach to Southampton – a quick journey as always due to its relative proximity to London. Once in Southampton, I was just as busy with my friends here. We figured these last few days would be the best time to maximise the events and activities going on in and around the city, so we went to Itchy Feet on Thursday night and spent a full day at Branksome Dene Chine beach on Friday!
On the day
Admittedly, my morning was mainly lost to sleep owing to the late night out beforehand. Once awake, I convinced myself to squeeze the last few drops out of my Sport and Wellbeing membership to the University's Jubilee Gym with a quick workout before brunch.
As I was permanently moving out of my Southampton house the next day, I made sure to spend a good chunk of the afternoon cleaning everywhere and getting the last of my things together. As a present to myself, I got my nails done at Maddisons, an excellent and affordable local beauty salon. I usually spend minimal time and effort on any kind of hair and beauty treatment, so this was an extra special treat for me!
Given that the Ball would officially kick off at 8pm, pre-drinks at my friend's house started at 6 – way too early, I know! I managed to get ready, got picked up by a friend and reached the place for 7pm, so not too shabby an effort! Pre-drinks consisted mainly of taking photographs ranging from cool and candid to forced big smiles.
The night itself
I was impressed by the jungle decor the Union had arranged – it didn't feel like we were on campus at all! We were welcomed to the Redbrick on arrival, which was decorated as a beautiful garden and featured a live band – a perfect opportunity for yet more photos…
Phone memories sufficiently clogged, we proceeded to the Stags for amazing drinks deals and a bit of mingling with more friends. After a quick trip to Bar Three to take a photo with the massive 'Grad Ball' sign, we proceeded (stealthily) to the silent disco in the Bridge. The only other time I'd been to one was at the Freshers' Christmas Ball, so I was really excited to try it again. The music selection was spot on and everyone got really into it, so I'd highly recommend going to a silent disco if you haven't before!
Nothing compares to the hilarity of taking your headphones off for a moment and listening to everyone quietly shuffle around to complete silence, punctuated with an occasional "WOOP!".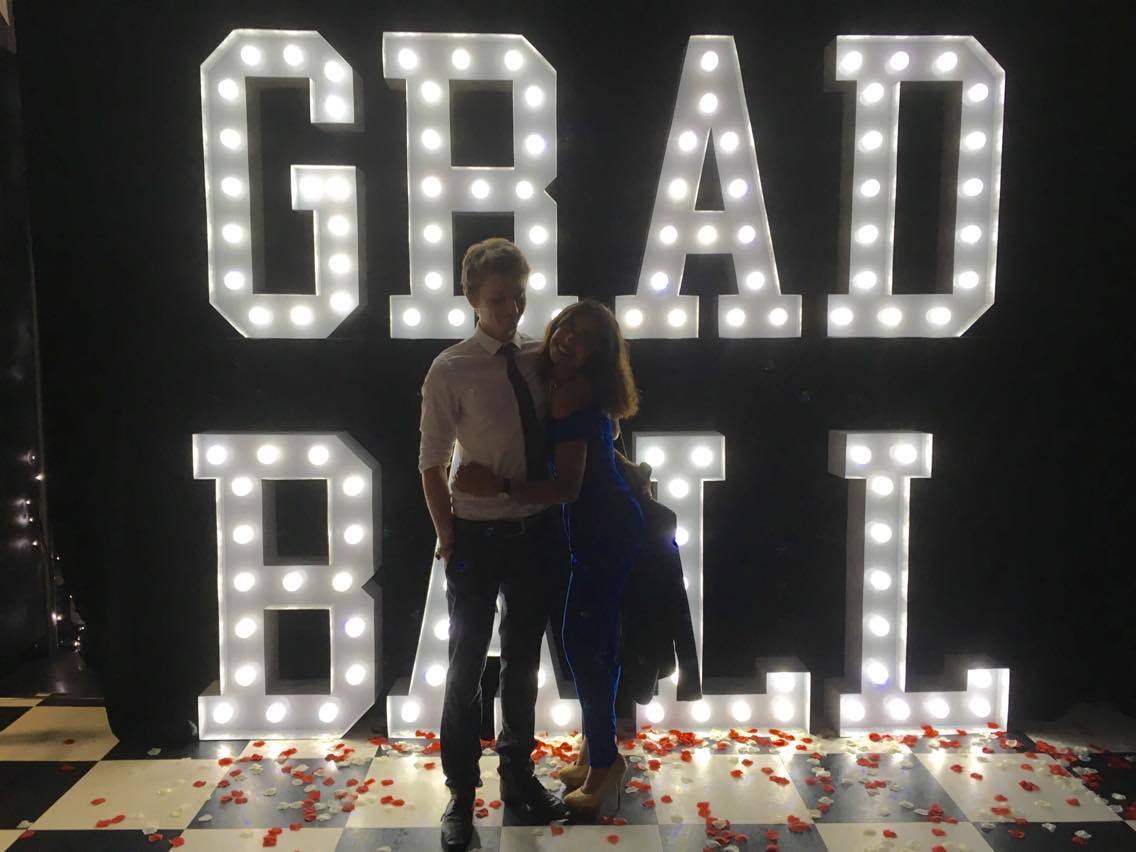 Posing in front of the Grad Ball sign!
We then headed down to the Cube (the Union nightclub) for a few hours of dancing with friends (shoes long-gone at this point), occasionally popping outside for a bit of air and chit-chat. I got reacquainted with many friends from my first year and enjoyed catching/throwing shapes with them on the dancefloor – albeit on our last night at University.
We concluded the night with one final hour of, you guessed it, even more dancing in the Cube, before saying our long, emotional goodbyes and heading home at 4am.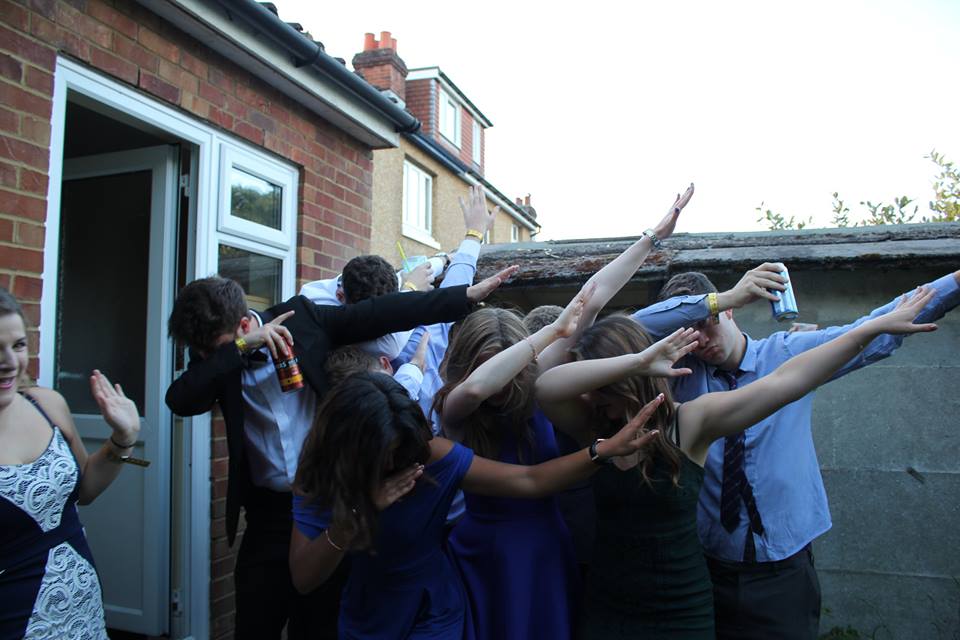 Ending a dab-tastic uni experience.
It was an unforgettable night, and I'm extremely grateful to the Grad Ball committee for all of their hard work. The hours they selflessly poured into making the event such a high standard definitely paid off, as you can see from the highlights reel!
Over and out, Southampton!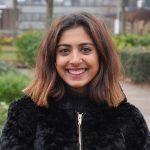 Aditi