After running the three-year marathon that is studying for a Bachelors degree, it is hardly surprising that graduation is considered such an important milestone in one's academic career.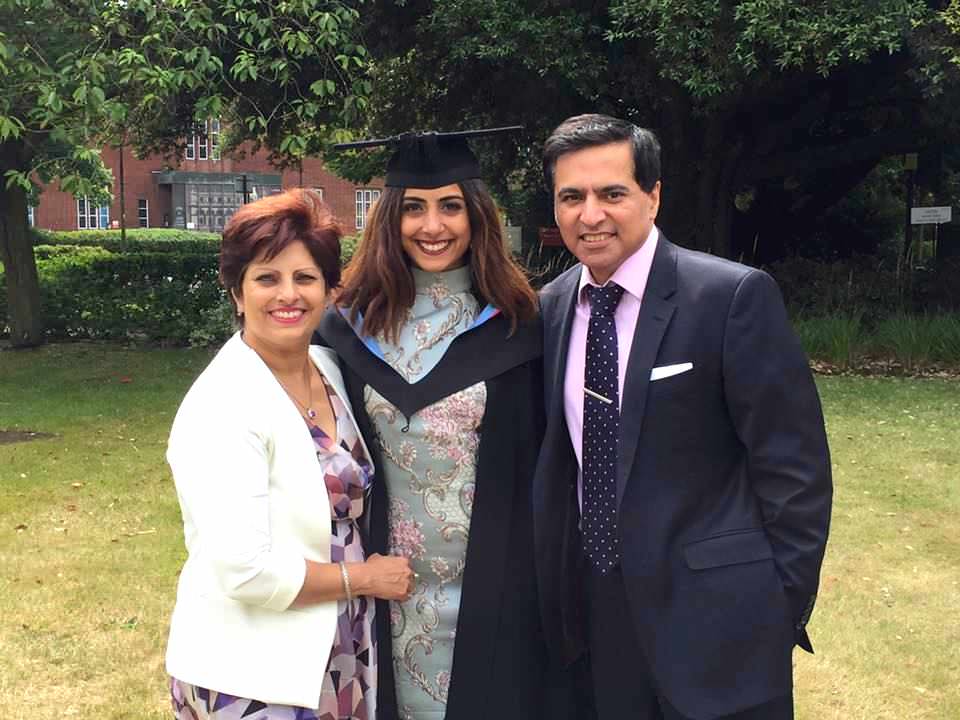 I couldn't have completed uni without my parents (literally) by my side!
Like a marathon, the final lap (or in this case year), the blood, the sweat, the tears (and the chocolate?) become somewhat normalised and all that keeps you going is knowing that the finish line is near. I envisioned that this euphoric moment celebrating my first-class degree would feature fireworks and multiple celebrations. Perhaps I set my expectations unrealistically high: I still had a fantastic day receiving my diploma and reuniting with friends, but it just wasn't the majestic finale that I'd been dreaming of.
Firstly, I pictured graduating in a grand hall with the entire year. The first part of this wish was granted as my ceremony was held in the beautiful Nuffield Theatre on campus. However, the year group was divided: 75% of us in ceremony 18 and 25% in ceremony 19.
Guess which one I was in? Yep. 19.
I'll admit, I was gutted not to be sharing this momentous occasion with the entire cohort. However, the ceremony itself was as grandiose and pompous as I could have wished for, even with the constant whisper in the back of my mind telling me about all the fun and extravagant ways my clumsy self could trip in heels during my precious few minutes on stage. Thankfully, Vice President (Education) Professor Alex Neill was able to drown out my doubts with the inspiring words he delivered to everyone in the theatre.
The ceremony was undoubtedly the highlight of my day. Not just because it was the moment I officially became a graduate, but because it was truly heart-warming to gaze around the room and see so many elated faces around me, from both students and their families and friends. In that hour-long ceremony, between those four walls in the Nuffield, we shared a common bond of knowing that we'd 'made it'. After seemingly endless assignments, unhealthy amounts of coffee, and long, long visits to Hartley Library, we had all successfully completed our degrees – it was a very special moment.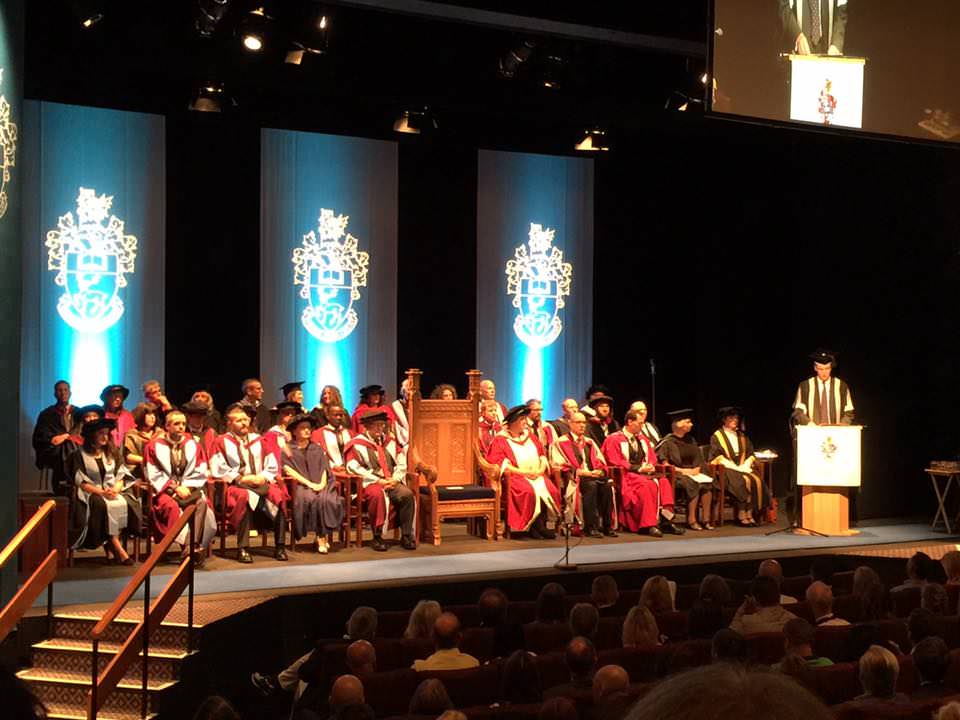 Ceremony 19, Nuffield Theatre.
After the ceremony, brimming with high spirits, I set off with my overjoyed parents for the official photo for the Geography Department, where I reunited with my friends from their earlier ceremony. I would have liked more time to chat with them but, as we were on a strict schedule all day, time was limited and I was quickly ordered to "line up in height order".
In hindsight, I think it was this constant need to be in the right place at the right time (looking at the right camera) that annoyed me a little at graduation. I was always looking at the clock to check I wasn't late for something, and felt like I couldn't really sit back and just enjoy the day. Of course, I completely understand that these events have to run like clockwork and I'm grateful that I didn't miss out on any part of the day – I guess it just wasn't what I expected. I assumed I'd have more unstructured time to socialise and (god forbid) relax.
As well as juggling my parents and my friends, I was lucky enough to be graduating on the same day as my boyfriend, which made it all the more special. But this too was a source of stress, as I had another family with whom to try and maximise my already limited time. It's hard to keep track when you keep getting side-tracked for yet another photo with another friend! Sorry for the humblebrag.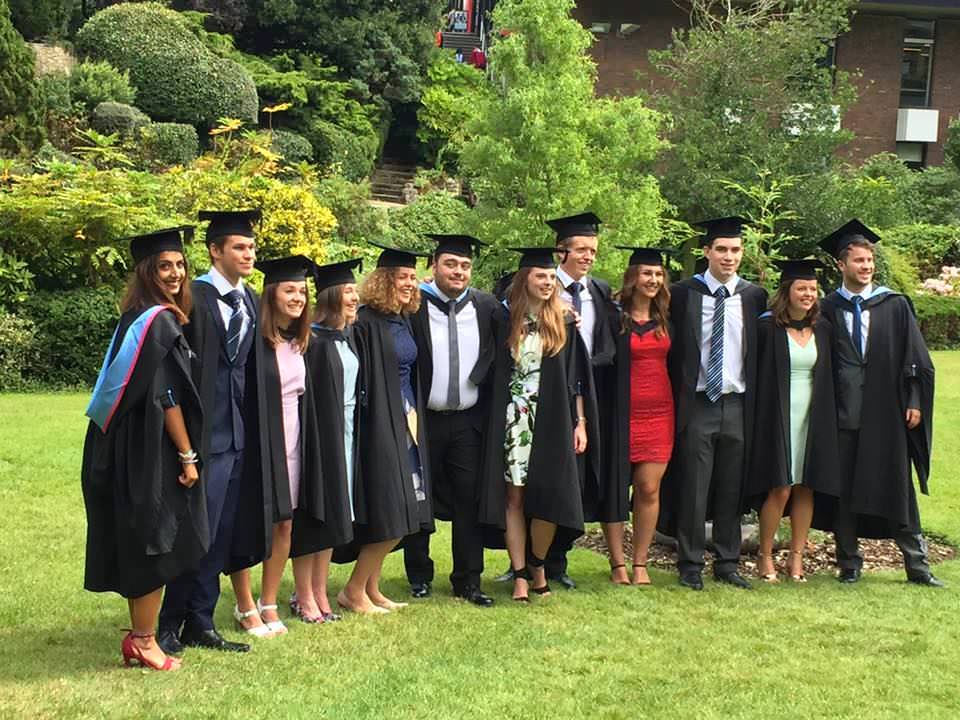 My amazing and intelligent geography friends!
On a more positive note, being in the 12pm ceremony meant I had most of the morning for my #transformation from no-make-up-jumper-and-leggings Aditi to glamorous-make-up-wearing-and-hairstyled Aditi! Although my cheeks ached considerably from smiling for hours of photos, and my feet gradually became numb from wearing heels all day, at least I looked as dolled up as I wanted to on my graduation day. Also, the robe itself is way heavier than you'd think, and my sash was pinned in properly so it fell down four times during the ceremony… Classic me.
Top tip for ladies: bring flats to change into between/after photos. And lots. Of. Pins. You won't regret it, I promise.
Fortunately, unlike the woeful tales that I'd heard from other graduation days, the weather wasn't too bad. Most importantly, the rain never made an appearance which made the two hours of hair and makeup I put myself through completely worth it. Let's be honest fellow millenials, the sunny backdrop of Highfield Campus helped secure some solid #candid shots for Instagram!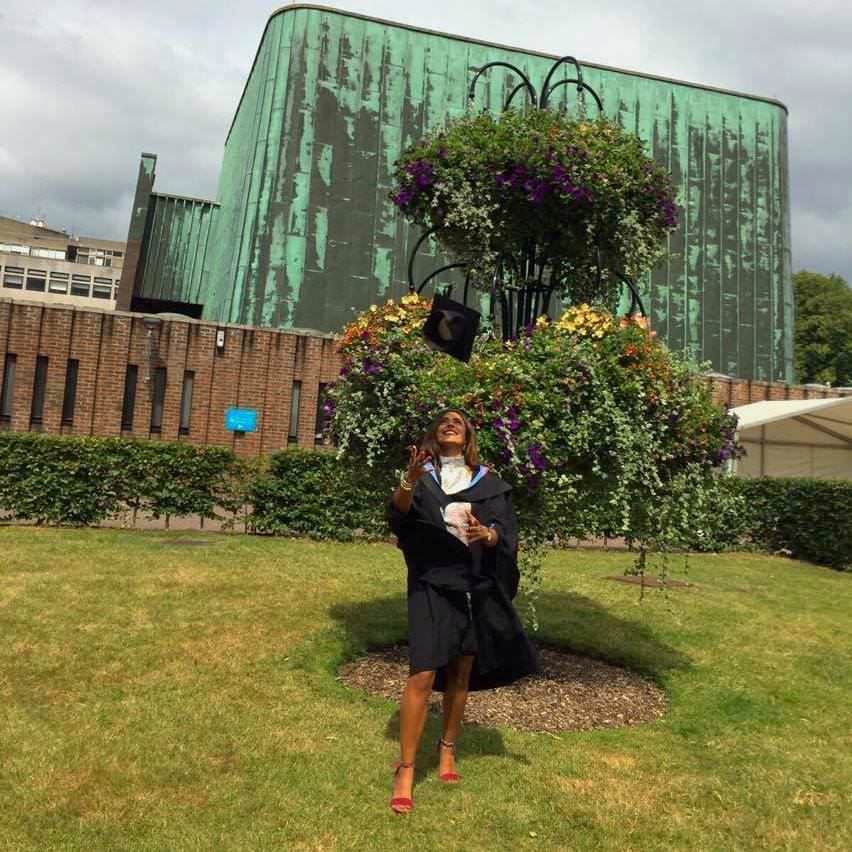 Did you even graduate if you didn't have the obligatory hat throw photo?
Readers, I hope my account hasn't come across as ungrateful about my graduation; I cannot stress enough how fortunate I felt to graduate with my fellow geographers and supporting, loving parents by my side. I just expected the day to be less structured and stressful in terms of time management – feel like I got a lot of that experience on my course!
If you take away anything from this blog, I hope it is the realisation that graduation has many components to it, which means you may end up being ordered around for a lot of the day, but it's still worth it. Don't miss out on your graduation: bring your family, look spectacular and, most importantly, prepare to smile!
ConGRADulations to everyone else who graduated in July 🙂
From graduand to graduate,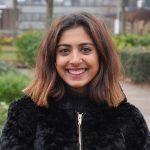 Aditi Arora (BA Hons)