*It's me, I'm Bear Grylls (of Hartley Library).
Admittedly, I didn't make much use of the library during my first two years in Southampton. I was too stubborn to acknowledge the benefits of studying in a quiet working environment, or being away from my living space (i.e. my bedroom). However, I have since learnt that separation of the two is so important, and I find that mixing up my work environments throughout the week actually makes me more productive.
This year, I've spent a little more time at Hartley than I'd like to admit, having well and truly caught up on the last two years. As a result, I've become accustomed to the ways of navigating library life. Some would say I'm an expert in making sure I get the best out of my "library sesh".
Food is your fuel
At approximately 10:30am, my stomach is ready for breakfast number 2. If you're like me, and food is your biggest form of procrastination, this point is especially important. Below is a list of things that I bring with me to cure my cravings:
Lunch that tastes nice hot or cold. Normally, this is pasta, but sometimes rice or noodles. You can warm this up at SUSU if you'd prefer to, but I'm usually too lazy so just stick to cold, hence my recommendation.
Fruit and nuts. The former helps with sweet cravings, and the latter with savoury. However, as they're healthier options, I find that my concentration is a lot better due to fuelling myself with wholesome foods.
Flask of tea/coffee. I love tea, so this is an essential, and it also helps to keep me warm in the colder months. Some of my friends prefer to take coffee to keep them awake, so whatever works best for you, really.
Water. Because hydration is key.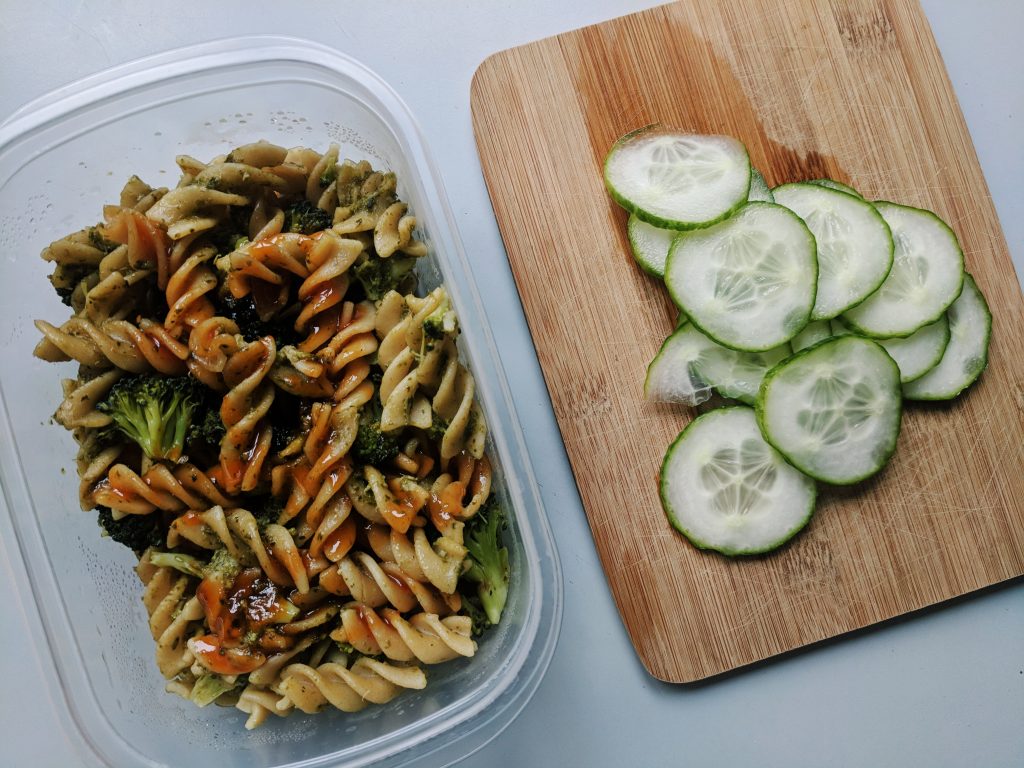 A typical lunch – broccoli and pesto pasta, with garlic chilli sauce and some cucumbers.
Comfort is king
There's nothing worse than being uncomfortable whilst studying, as it can really distract you from focussing. For me, this starts with what I'm wearing – usually some gym leggings or a skirt (and tights) as I can move my legs around into a comfortable position easily. My general rule is that if it's restrictive in terms of movement, it's a no-go.
Next comes temperature. Maybe my body is awful at regulating temperature, but the library is always too cold or too hot for me. Therefore, I always have a thin blanket packed into my library bag, which I can have over my lap or shoulders if it gets too chilly. Dressing in layers is advisable as you can always peel them off when you start overheating, or vice versa.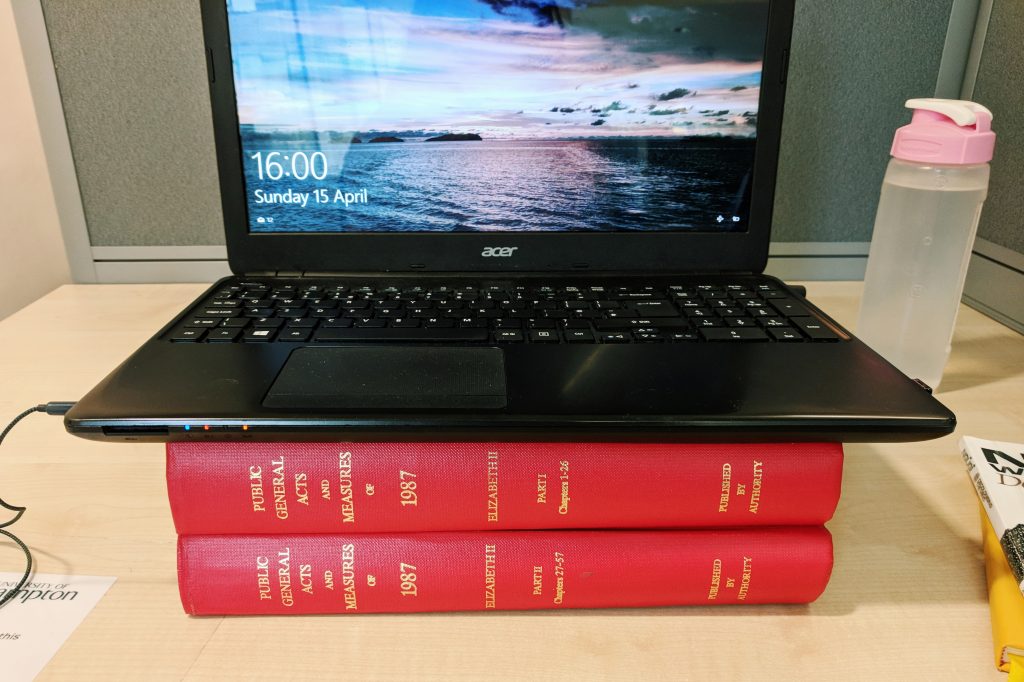 How I use law books to position my laptop.
Finally, your seating position. If you're spending hours in the library bent over work, your neck and back are probably going to feel a little strained. Of course, depending on your height, try and sit at a table that is as high as possible, so the top of your laptop screen is pretty much in line with your eyes. Sometimes, this isn't an option, so I find the law books a good alternative to get some height. This really helps with my neck as I'm not looking downwards for long periods of time.
As for your back, find a comfortable chair. This can sometimes be a mission, but being picky is worth it. Personally, my favourite is pictured below (yes, I have a favourite) and for extra comfort, I'll bring a cushion from home (yes, I also do this). Alternatively, there are some on the sofas on Level 3, but I'd first be mindful of people needing them on the sofa before you borrow them.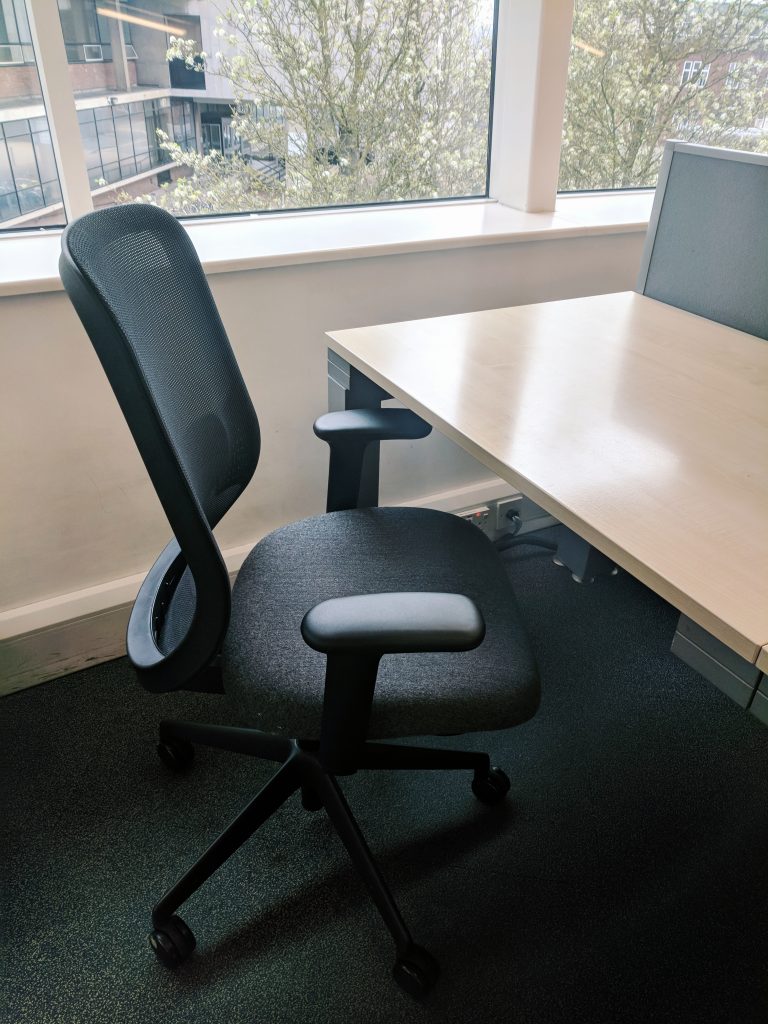 Old faithful.
Light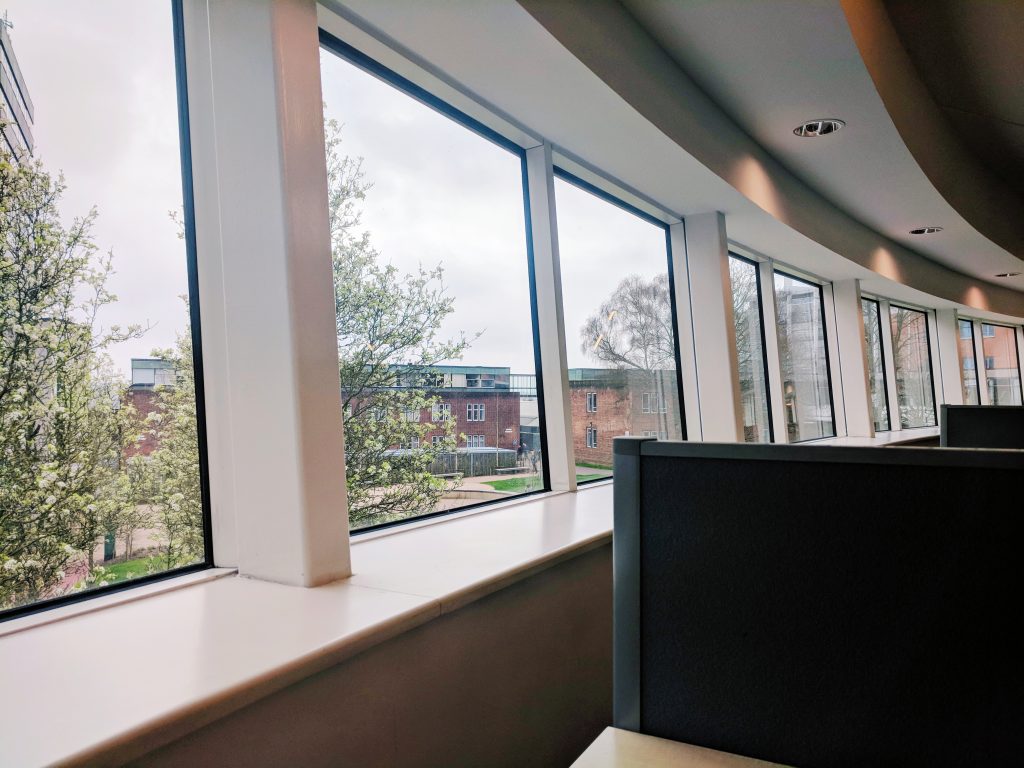 My view from Level 3.
The backlight from my laptop screen can be straining at times so I like to sit by a window for natural light, as it's less harsh that being lit by a light fixture. The ground floor has lovely floor to ceiling windows around the back, and Level 3 also has a nice view which is my preferred spot. Working in the dark can also make you tired, so a well-lit working space is important for productivity.
I hope my tips help in the lead up to exam season. What are some of your library essentials?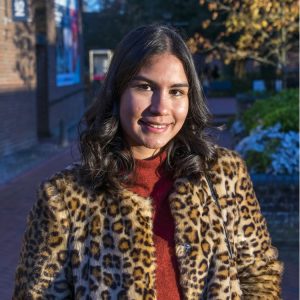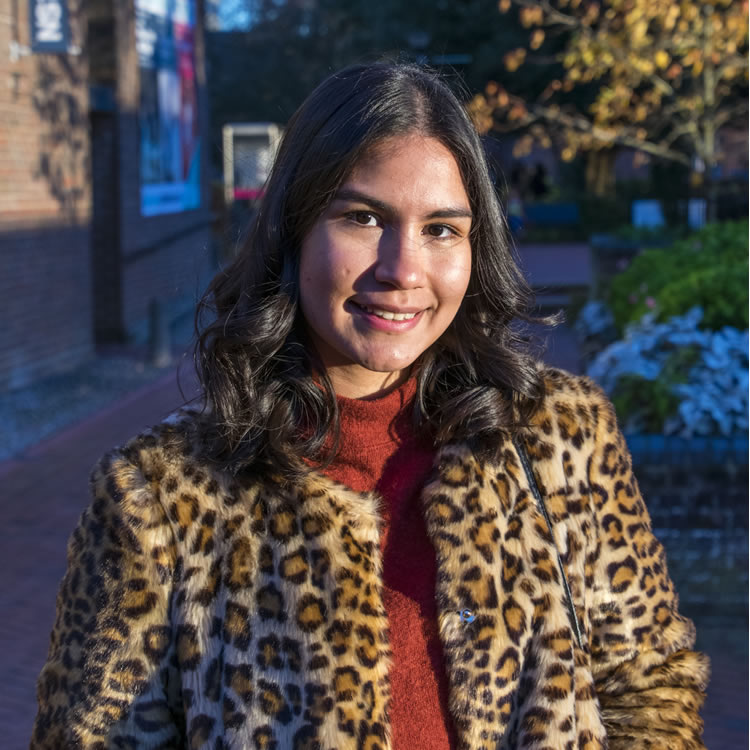 Sarah