Mid-PhD report submitted, mid-PhD mini "viva" behind me – I'm exhausted.
Today, I'm sharing a lowlight of PhD life at Southampton (stress, struggles and a relentless ride), and a highlight (the Festival of Doctoral Research, run by the Doctoral College).
Lowlight: the middle of the PhD
"The prevalence of mental health problems is higher in PhD students than in the highly educated general population, highly educated employees and higher education students." – Levecque et al. (2017).
PhDs are academic, they're research-driven, and they're the ultimate pursuit of knowledge – for the PhD student, and for the wider research community. But equally, PhDs are projects of passion: they're personal, they're rollercoasters – they're tiring.
The University of Southampton offers endless exciting opportunities: demonstrating or even leading classes for which you have relevant knowledge, invigilating exams, joining public engagement projects and teams, and collaborating across faculties and/or research groups, to name a few.
If I was a piece of plasticine, I'd probably be most comfortable being stretched out: not too thin, but big enough to cover multiple hobbies with my plasticine being. But trying to keep up multiple groups, activities, sports… oh and the PhD, all at the same time – that can be a struggle.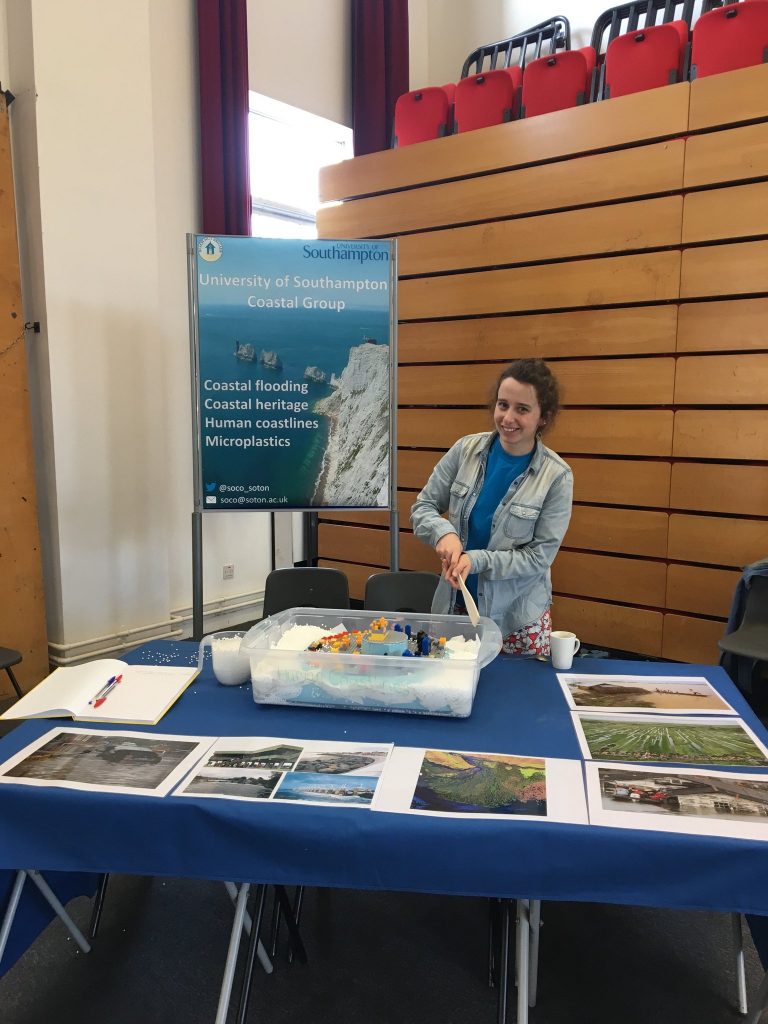 Joining public engagement teams has been a great way to learn how to communicate my research, but it can be hard to balance with the PhD workload.
(© Amy Welch)
Submitting my 18-month report, that monster report which confirms your position as a postdoctoral candidate, and then defending it in a 2-hour long viva was exhausting.
The feedback I got will improve my PhD project beyond recognition (quite literally: my PhD research is set to change dramatically) and I appreciate all of it. However, I did not quote Levecque et al. (2018) by chance: the results of this research do not surprise me and there is clearly a lot of work to be done to improve the status quo of PhD students' mental health.
Highlight: the Festival
Last year, the Festival of Doctoral Research seemed like a harmless distraction, a bit of fun. This year, I've really needed it.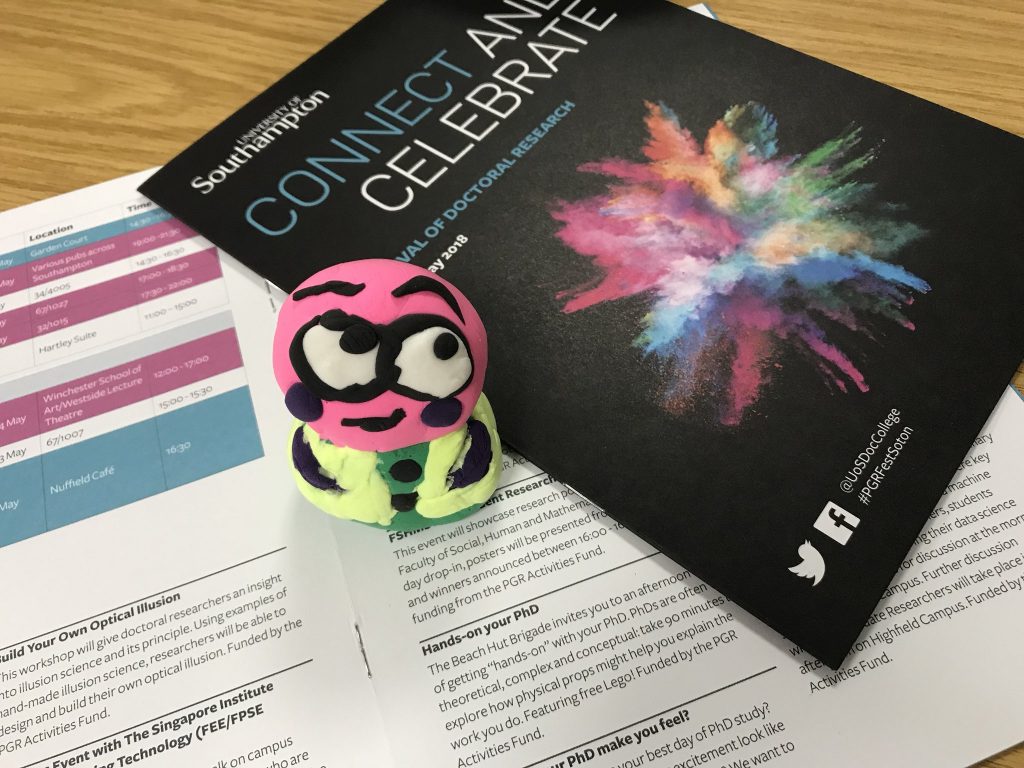 Roll up, roll up, for the Festival of Doctoral Research!
(© Juliet Hasson, Doctoral College)
The Festival's aims are twofold: to showcase the work of PhD students at the University, and to connect PhD students with each other. And while I understand and enjoyed the events related to the first aim, such as the Showcase (which I attended and wow it was overwhelming) and the Three Minute Thesis, or 3MT (which I didn't attend but wow heard some good things about it) – it's the second aim that I really embrace. We PhD students need more opportunities to connect with each other, and I wish this was encouraged more comprehensively throughout the PhD.
Improving your Doctoral Experience – Overcoming Obstacles: PGRs share their experiences. You can see the title was chosen by someone also battling to choose their PhD thesis title, but while I somewhat dubiously attended this event (what can a few hours' discussion do to help me?) I left it … changed.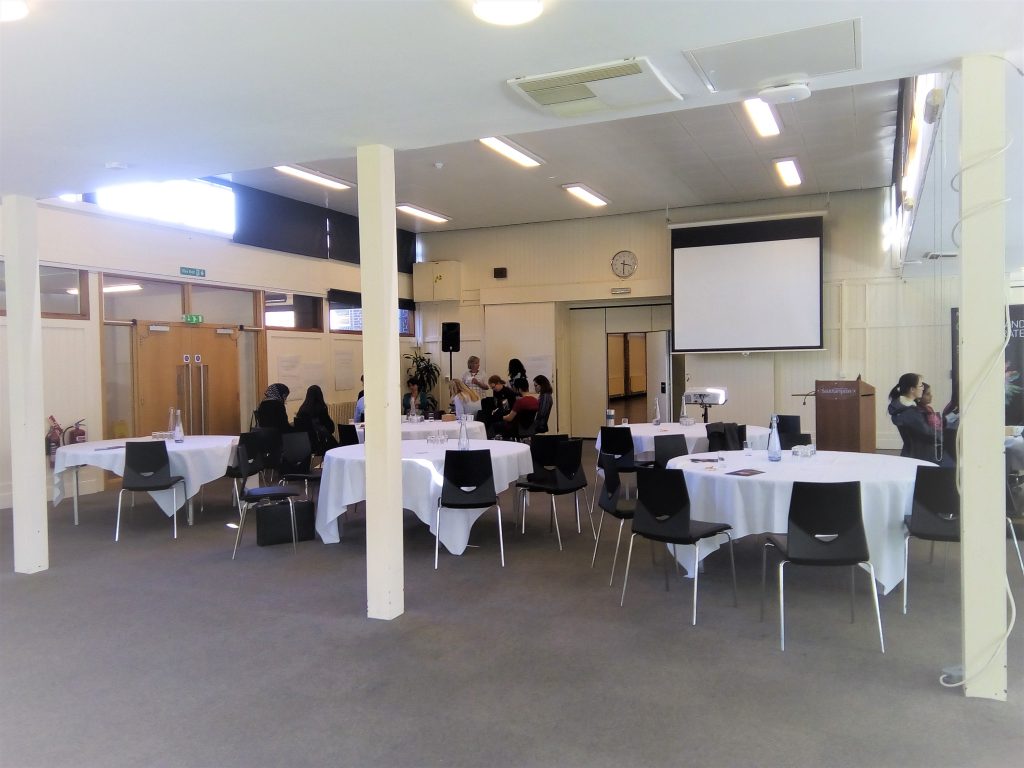 The event was small, but impactful.
I realised: they're right, the organisers are right, I'm not alone in my struggles. We're doing this together and sometimes the very act of sharing stories can make you feel better.
I realise: it could be worse! I've had my share of PhD struggles but there are nightmare PhDs out there too, and oh my goodness SUCH strong people who overcame each and every obstacle.
I realise: if I'm stress beyond being able to function, I need to do something about it. Whether I attend the Mindfulness sessions the hosted by the University, cycle for a day when I should be cleaning the kitchen at home, go to one of the Drop-In sessions that Enabling Services offer … it's up to me to make that choice and do it.
The only way forward is straight ahead
The Festival of Doctoral Research is about celebrating research and bringing us together. It is also about empowering PhD students – reach out, sign up for something you've never done before, and discover a new side to yourself.
And enjoy the PhD experience more because of it.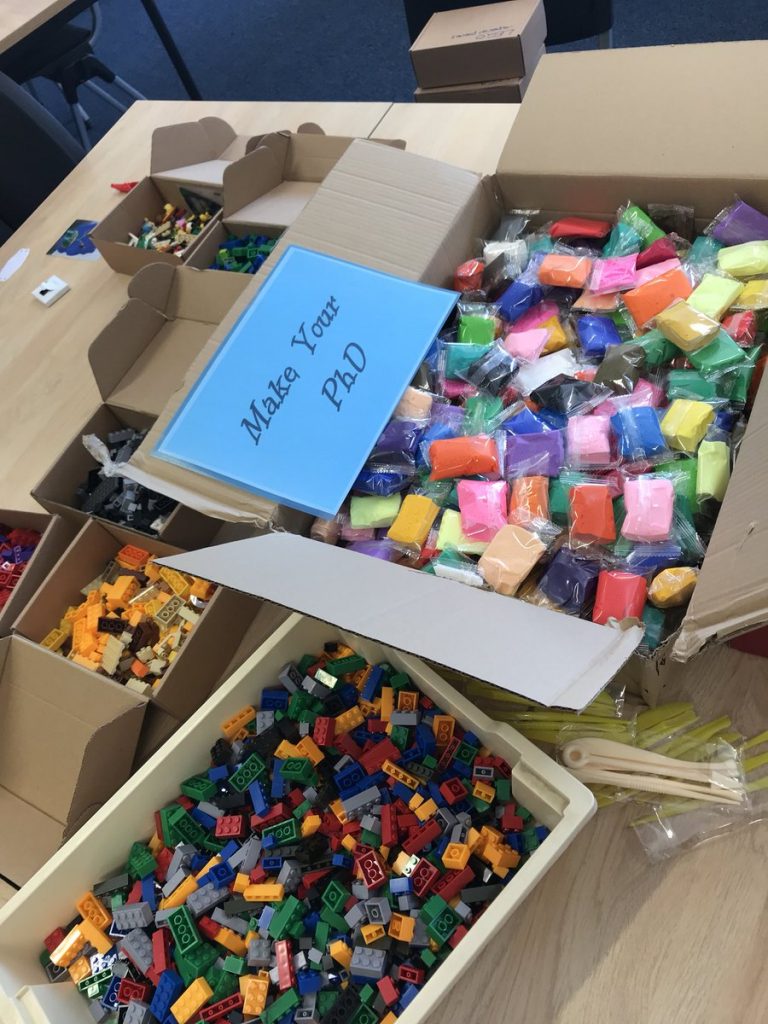 The Festival of Doctoral Research gives us PhD students a chance to engage with our research and each other in different ways, offering fresh inspiration.
(© Juliet Hasson, Doctoral College)

When I'm down and out of PhD energy, I need to get outside and either cycle or run for the day. What do you do when you're in need of some positive vibes?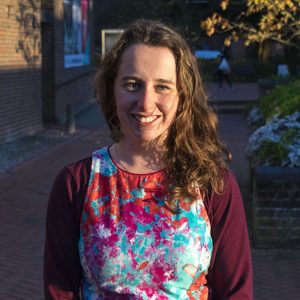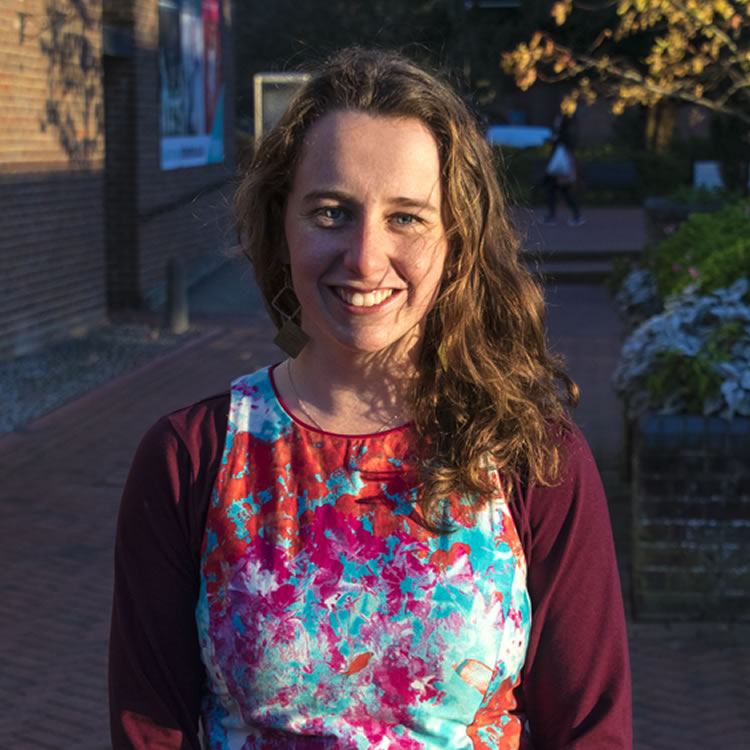 Sien