At the end of last month, legendary American actress, comedian, author and mental health campaigner Ruby Wax arrived in Southampton for the next stop of her book tour for How To Be Human: The Manual.
How To Be Human certainly doesn't take on an easy task: the book aims to discuss how humans have evolved throughout history. Ultimately, while we may have evolved physically from our primate ancestors and grappled with survival, us humans still struggle to thrive – especially in today's society.  Humans have experienced great difficulty learning to adapt emotionally and navigate against the pressures and demands of modern everyday life. Luckily, with the help of renowned neuroscientist Dr Ash Ranpura, and Buddhist monk Gelong Thubten, Wax explains the weird and wonderful ways in which our minds work.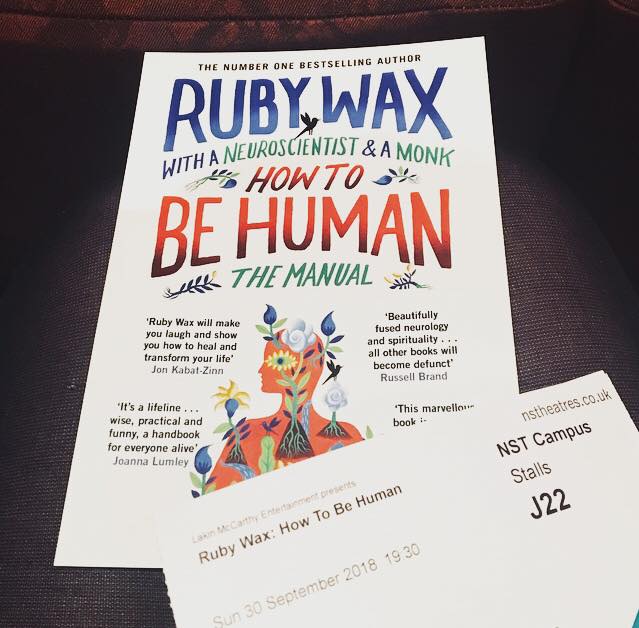 A very excited Emily took this picture just before the show started.
During the first half of the show, Wax stood on stage alone, offering a unique and incredibly comedic take on human behaviour and emotion. Despite a technical issue meaning that she was without her trusty Powerpoint slides, Wax continued to exude her usual zany persona, bantering with the audience about all things human: family, romance, and work. One of her most memorable lines from the night involved exclaiming to an audience member that "you share 20% of your DNA with a banana – get over yourself!"* Funnier still was Wax's admission that a male member of the audience had taken her fancy, and that she found herself being distracted by him being "incredibly attractive."
*(Reader discretion advised: Ruby admitted not all statistics she quotes over the course of the show are factually correct. Some are prone to slight exaggeration.)
Quirky, engaging and wise, the first half of the show saw Wax offer an accessible overview into what makes human beings tick, and how we have developed throughout our history. We've gone from being savvy hunters, to social-media-obsessed beings – we'd struggle to fight off a bear considering the pang of anxiety that builds when emails begin to pile up in our inboxes.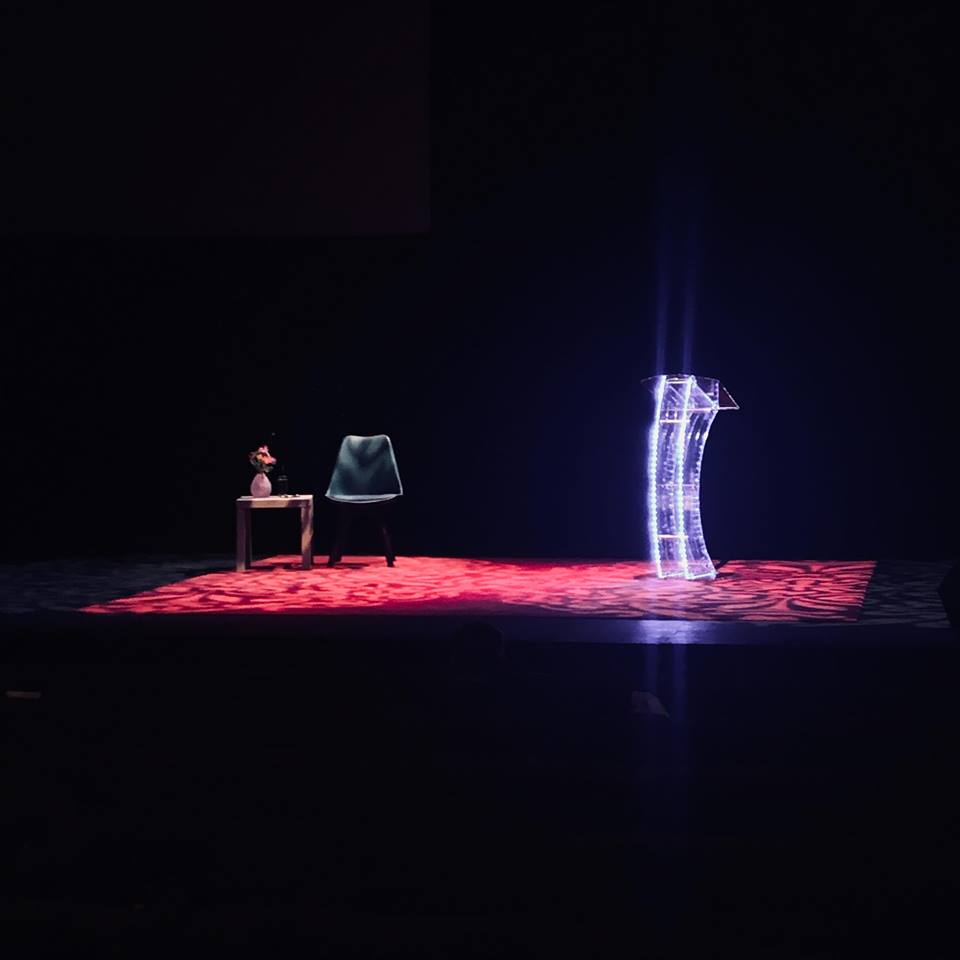 The stage was set ready for Ruby Wax.
After a brief interval, Wax was joined on stage by Dr Ash Ranpura and Gelong Thubten. The complimentary fusion of neurology and spirituality – specifically mindfulness inspired by Buddhist teachings – brought by Wax's two companions offered an intriguing insight into why we often find ourselves so overwhelmed and frazzled when confronted with the deceptively simple task of being a well-adjusted, and functioning human being. As Wax explained, our society is bound by a fierce culture of comparison, in which we have forgotten the importance of collectivism and community, becoming increasingly egocentric and selfish in our needs. We have begun to lack compassion and empathy for others, and become experts in neglecting our mental and physical health. All this under the misguided view that we must maintain the pretence that we are happy, carefree individuals.
Having covered all areas of discussion that were scripted, Wax, Ranpura and Thubten then each took turns answering questions asked by various audience members. The questions raised were incredibly interesting, but even more thought-provoking was the careful, thorough and considerate responses provided by each of the show's co-hosts.  One audience member, for example, asked for Thubten's own personal take on the differences between compassion and empathy. Interestingly, he likened empathy to drowning, which is far more passive and suffocating. Compassion, by contrast, he paralleled to swimming: it is more of an active process, motivated by action and intent to make difference.
I don't know about any of you, but that answer really struck a chord with me and made me consider how us humans can support a person in need and elevate them in a way that isn't detrimental to our own wellbeing. It's important to be compassionate for our fellow man, and to practise looking after ourselves with the same priority we give to looking after others.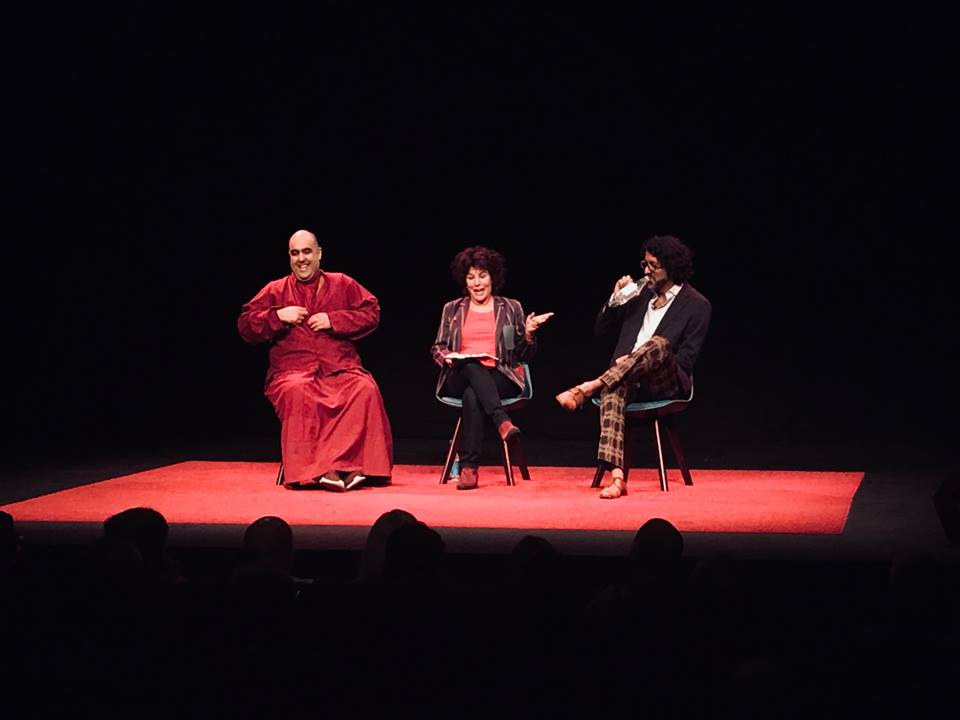 The stars of the show midway through the Q&A session, which concluded the evening's hilarious, yet informative, show.
Ruby Wax's How To Be Human: The Manual, Live made for an incredibly enriching and rewarding evening – not only was it entertaining, with Wax's humour providing comic relief amid the science-y brain stuff, but it was also taught something incredibly profound: how we can be human.
Check out the Nuffield Theatres website to find out what's coming up this season at their City and Campus venues. Let me know if you're planning to see anything!