It has begun. I'm 30 months into my PhD and the niggling thought that has been a conversation topic for others has become a topic for me too:
What will I do next?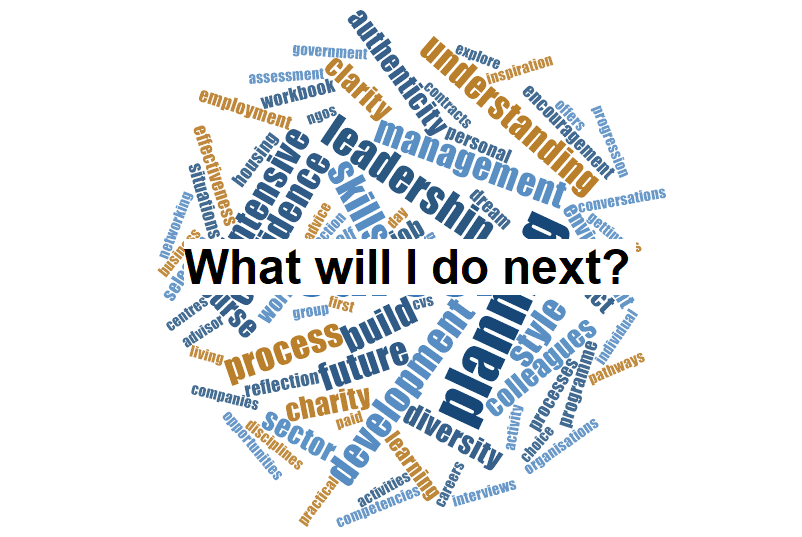 There's so many factors to consider when thinking about one's career!
Watching the journey of friends
Perhaps it's the contrast to this dragging, particularly draining stage of the PhD that makes the moment when friends find a job so especially exciting to witness. Going from being tired out and feeling a bit directionless, I've seen so many pals become whole new people, whether still working in academia, gaining employment with charities, or getting recruited by companies.
I didn't realise quite how rapidly the same phase would be starting for me.
Careers support and advice
Don't get overexcited on my behalf! I don't have a post-PhD job and I haven't applied to one yet either. But what has changed is that I've gone from blissfully (is a PhD ever blissful?) focussing solely on ploughing through the deadlines and work of the PhD… to pondering what might come next, and what I might want to do.
Enter: the Careers and Employability Service (i.e. the careers centre)
Enter: PGR Gradbook and the Doctoral College.
The Doctoral College offers PGRs short courses (i.e. 2 hours – 1 day) in subjects varying from methodologies and academic writing, through to careers. When I first got to Southampton, my post-Phd career was actually quite at the top of my mind, and so I showed up to courses on finding out who I am and what sort of career suits me…
… And then I forgot all about all these services!
Thankfully, the Festival of Doctoral Research served me another new purpose this year – this time by reminding me of the existence of the career support that both the Doctoral College and the Career's Centre have on offer. I signed up to get some tips about getting a non-academic job at the lecture Pursuing a Job Outside of Academia – 8 things to know, and indeed came away with 8 tips/thought-exercises to help me figure out what it is I want from a job, and what I want my career to look like in the long-term.
Even juicier is the two-day course hosted by the Doctoral College promising to further flesh out your leadership and career prospects. Will I sign up? If I can get my act together on time and get the application in!

I am at the "I don't know what's next SCARY" stage of career planning.
Making my own roads
I don't know what I want to do post-PhD yet. But I do know that it's high time I got thinking and acting on it. And, thankfully, it seems the University has some great resources to support me on that journey!
What are some top career thought-exercises you've engaged in to get to where you are now?