Find out what life at the University of Southampton is really like, from four very different students.
We'll be sharing our own stories to give you a taste of the real Southampton student experience. From social life and study tips to tales of travel and careers.
Please use the comments to ask us any questions you may have – we hope you enjoy reading!
Meet the team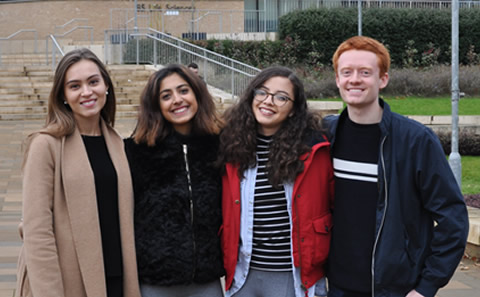 Alexandra, Aditi, Georgia and Paul.
My name is Alexandra, and I am 21 years old from beautiful Oslo, Norway and I'm in my final year of Politics and International Relations. I am a good mix of Norwegian, Romanian and Danish, but this year I have been referred to mostly as the 'Norwegian Girl' so we'll just stick to being Norwegian to keep it simple!
Hi everyone! My name is Aditi and I'm in my final year studying Human Geography with French. I spent a year abroad for my course, can speak five languages (English, French, Spanish, Hindi and Latin), and am very passionate about animal welfare (vegetarian) and fitness.
Hi there, I'm Georgia – a second year BSc Biologist. I like insects, particularly beetles, fossils, and I drink too much tea. My favourite music ranges from The Smiths to dancehall, my top three films are Gladiator, Labyrinth, and Blade Runner, and I read anything I can get my hands on! My desk is an organised mess and I have too many house plants.
And I'm Paul – I'm 21 years old and come from Eastbourne in South East England. Now in the fourth and final year of my BA French and Spanish degree, I was in the fortunate position of being able to spend a year abroad as part of my course in the last academic year. Firstly in Grenoble in France for 9 months and then in Malaga in Spain for 6 weeks for an internship.