£2.5m funding boost as Cancer Research UK supports three new trials
Researchers in Southampton are launching three new clinical trials for cancer treatments thanks to over £2.5m of funding from Cancer Research UK.
The trials are being run by the Southampton Clinical Trials Unit at the University of Southampton and will aim to find new treatment options for patients with lymphoma, cervical cancer and a rare form of cancer of the urinary tract.
Dr Simon Crabb, Associate Clinical Director of the Southampton Clinical Trials Unit's cancer portfolio, and Chief Investigator of one of the trials, said:
"As everyone is aware, the last 18 months have been extremely challenging. The necessary pause to clinical trials work in cancer now needs to get back on track. And so to receive funding for these three different clinical trials, which we originally planned before the pandemic, is fantastic news. I think each of these disease areas is an important area where further research is needed, so we're delighted to receive this funding from Cancer Research UK."
Just over £1m has been allocated to the OptiMATe1 trial which aims to improve outcomes for people with lymphoma of the brain and spinal cord, for which current treatments are not always successful.
A previous trial (IELSG322) found that a treatment regimen called MATRix, which is a combination of chemotherapy drugs and an immunotherapy treatment called rituximab, followed by a stem cell transplant, could lead to long-term survival for around 70% of people with primary central nervous system lymphoma (PCNSL). This trial led to a change in the standard of care for this disease in the UK and much of Europe.
However, around a third of patients do not respond or relapse following this treatment. The OptiMATe trial will therefore investigate whether MATRix can be optimised by changes to the timings and intensity of how the different drugs are given.
Dr Chris Fox, consultant haematologist at Nottingham University Hospitals NHS Trust and Chief Investigator for OptiMATe in the UK, said: "Despite huge advances in treatments for patients with PCNSL in the last few years, there are still many patients whose lymphoma does not respond to, or returns following, current treatment approaches. We hope that the OptiMATe trial will be able to provide evidence that this new and optimised treatment strategy can provide an alternative treatment pathway leading to improved survival for patients."
Another new trial funded by Cancer Research UK (AURORA3) will look at whether an immunotherapy treatment could help patients with a rare and often incurable form of cancer of the urinary tract has also received funding.
Urinary tract squamous cell carcinoma (UTSCC) is a rare form of cancer of the urinary tract including the bladder. At present there are no treatment options that are proven to be effective. This is, in part, because of research having been limited in this disease in the past. Typically, survival rates are poor, and prognosis is under a year.
Immunotherapy works by helping your body's own immune system to recognise and destroy cancer cells. This approach to treatment has already become established in a number of other cancers. The AURORA trial will study whether an immunotherapy called atezolizumab, which blocks a protein that stops immune cells from working properly to target some cancers, can be effective for patients with urinary tract squamous cell carcinoma (UTSCC).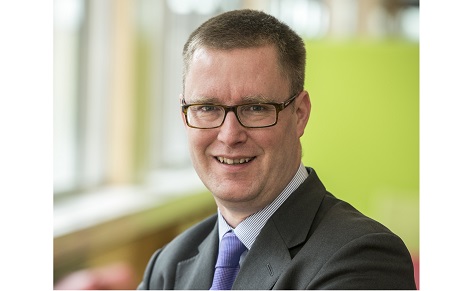 Dr Simon Crabb (right), who is leading the trial, said: "Because UTSCC is such a rare cancer, there are very few clinical trials conducted into the disease and therefore no current effective treatments, meaning the disease is often incurable. We hope that this trial will show whether immunotherapy could provide a treatment option for patients in the future."
Professor Gareth Griffiths, Director of the Cancer Research UK Southampton Clinical Trials Unit and co-chair of the International Rare Cancers Initiative (IRCI) Rare Geniturinary Cancer Working Group said: "It is fantastic that we are opening a trial in a rare cancer type where there have been a limited number of clinical trials to date for our cancer patients. AURORA will be conducted in the UK but if we see evidence the treatment is safe and effective, we then plan to develop future larger trials internationally across our IRCI partners".
AURORA has received over £814,000 from Cancer Research UK, with further support from pharmaceutical company Roche who are providing the atezolizumab for the trial.
The final trial to benefit from this latest round of Cancer Research UK funding is CRAIN4 which is looking at a new treatment for cervical cancer and has been awarded nearly £700,000 of funding.
Around 3,200 women are diagnosed with cervical cancer in the UK each year5. The current standard of care in the UK is chemoradiotherapy, but around half of women will suffer long-term side effects from the treatment, and approximately half will see their disease come back.
One of the hallmarks of cancer cells is that they can avoid a process called apoptosis. This is the mechanism of programmed cell death that is part of all normal cells in the body and ensures that damaged or old cells are removed. But in cancerous cells, the mechanism that causes apoptosis is switched off, which means the cells can grow uncontrollably, causing a tumour.
The CRAIN trial will test a drug called ASTX660 which causes apoptosis in cells. Studies in the laboratory have shown that adding this drug to chemoradiotherapy can increase the number of cancer cells that are destroyed, compared to radiation alone.
Peter Hoskin, Professor of Clinical Oncology at the University of Manchester and the Christie NHS Foundation Trust, and Chief Investigator for CRAIN, said: "This early phase clinical trial will help us to find the maximum dose of ASTX660 that can be safely tolerated by patients, and give us an indication of whether it is effective against their cancer. If this first trial is successful, the hope is that it will lead to a larger trial where we can test whether the addition of ASTX660 may work better than chemoradiation treatment alone and improve outcomes for people with cervical cancer."
The trial is also being supported by ASTEX Pharmaceuticals who manufacture ASTX660 and are providing the drug for the trial.
Michelle Mitchell, chief executive of Cancer Research UK, said: "We're proud to be investing in these three promising clinical trials developing new and better cancer treatments.
"Clinical trials like these help us learn more about how to tackle cancer, which still shortens far too many lives. These trials will also allow hundreds of people with cancer to access new or improved treatments, while contributing to the steady progress being made through research – progress which takes us closer to a world where all cancers can be cured."
Notes for editors
1. The OptiMATe trial - Optimizing MATRix as remission induction in PCNSL: De-escalated induction treatment in newly diagnosed primary CNS lymphoma – a randomized phase III trial
2.The IELSG-32 trial was an international trial led by the International Extranodal Lymphoma Study Group of the MATRix drug regimen (chemotherapy drugs methotrexate, cytarabine and thiotepa, in combination with the immunotherapy rituximab) in patients with PCNSL. The long-term follow-up results of this trial were presented at the European Haematology Association's virtual conference in June 2021 and showed that 70% of patients of patients receiving MATRix followed by a stem cell transplant are alive at seven years. Read more here https://www.southampton.ac.uk/ctu/news/2021/06/17-conference-round-up.page
3. The AURORA trial - Atezolizumab (PD-L1 inhibitor) in patients with urinary tract squamous cell carcinoma: a single arm, open label, multicentre, phase II clinical trial. Read more about AURORA here https://www.southampton.ac.uk/ctu/trialportfolio/listoftrials/aurora.page
4. The CRAIN trial - A phase 1b clinical trial with dose escalation and dose expansion phases of ASTX660 in combination with standard radical radiotherapy in cervical cancer with chemoradiation. Read more about CRAIN here https://www.southampton.ac.uk/ctu/trialportfolio/listoftrials/crain.page
5. Cervical cancer statistics from Cancer Research UK - https://www.cancerresearchuk.org/about-cancer/cervical-cancer/about