Audiology is the dynamic healthcare field of hearing and balance disorders. Combining science, technology and patient care, audiology involves the identification, diagnosis, treatment and rehabilitation of hearing loss, tinnitus and dizziness.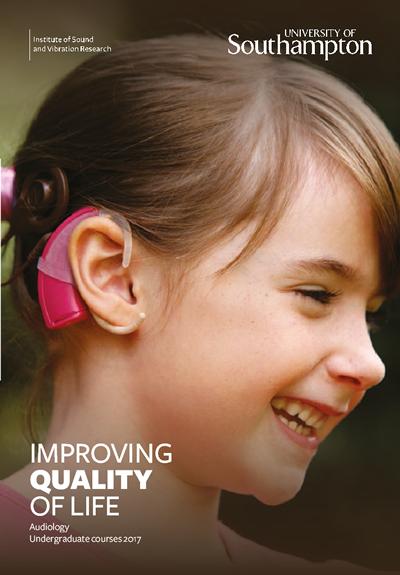 Audiology courses
BSc/MSci (Hons) Healthcare Science (Audiology)
Why study at Southampton?
Reach your ambition of a career in audiology at Southampton. We are the UK's leading university for Audiology studies and ranked in the top 10 in the UK for Aural & Oral Sciences in the 2018 Complete University Guide. Our aim is to develop the future leaders of the profession. You will be involved in ground-breaking audiology research as it develops.
You will be trained by award-winning lecturers and researchers at our world renowned Institute of Sound and Vibration Research (ISVR). As an institution in the top one per-cent of world universities (QS2017), you will benefit from our world-class facilities, including an in-house Audiology Centre, Auditory Implant Service and open-access Audiology Skills Laboratory.
We offer a unique Audiology education, with the option to take a BSc or an integrated MSci degree. We provide a highly practical learning environment to help you on your career path. During your audiology degree, you will undertake over 40 weeks of guaranteed clinical placements. You will also undertake practical sessions throughout the first two years, problem-based learning and an individual research project.
Our BSc and MSci degrees are accredited by the Registration Council of Clinical Physiologists. The BSc is approved by the National School of Healthcare Science as providing a Practitioner Training Programme as part of Modernising Scientific Careers. The BSc is also accredited by the Health and Care Professions Council, so graduates can register as Hearing Aid Dispensers. (Approval of the MSci by those two bodies is pending.)
What are my career options?
Our Audiology graduates are highly desired by employers. You can go onto a variety of roles, such as audiologist in the NHS or independent sector, trainee clinical scientist, hearing aid dispenser and researcher. You can go on to specialise in an area (such as adult rehabilitation, paediatrics or balance) and to leadership roles in education, service management and research. Some of the companies our graduates work for include the NHS, Specsavers, Amplifon UK, GN Otometrics and Chime Social Enterprise.