Research in Education and publications
Hans is investigating novel learning methods in teaching undergraduate and postgraduate students computational science. This includes changes in the learning activities, learning environment and use of modern software engineering approaches and languages.
Selected references:
Outreach
Hans teaching secondary school pupils some fundamentals of physics ('the pendulum' can be seen in the picture) and computer simulation of such processes.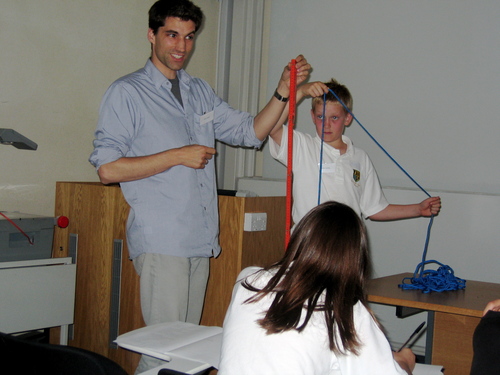 Through a project by Alvaro Perez and Hans Fangohr, a mod for Minecraft has been created that allows execution of Python scripts inside Minecraft, by carrying a Python script as a tool (in the same that Minecraft players carry swords, axes or torches) and being able to executed on demand by pressing a button.
PyCraft Mod for Minecraft: an interactive way to interact with Minecraft using Python. See here for source code and link to webpage.