Brands Hatch Track day 2005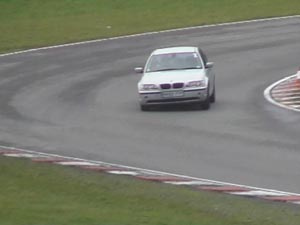 I went on a half-day track day at Brands Hatch organised by Motosport Vision. After the usual briefing we were shown around the track (in a minibus) and then led around following an instructor's car. After that we were free to do as many laps as we wanted in the next 2hrs. This track is amazing in that it has a variety of corners, hills and speeds (I hit 95mph at the end of the straight where there was a scary 70mph corner) . The BMW's traction control system was fantastic! Keeping me from sliding off, especially on the long fast corners. The brakes didn't fade/smoke at all thanks to careful use! Overtaking was moderated nicely (just well with the Ferrari and Caterhams there) - you indicate to let someone pass or they are not allowed to. I can recommend this event to anyone wanting to know the limits of their car and experience a real track.
Here is a video which should play on most machines ( 21MBytes)
Fantastic car! Fantastic track!