Formula First in Goodwood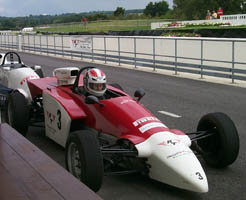 Return visit to Goodwood racetrack for 6 extra laps! I forgot how amazing the wind and noise was - and how good the Goodwood track was. I was lucky to get on track alone too! Not having to avoid other cars really lets you go flat out around the fast bends. The guiding 2.5l Vectra could be disconcerting in the high braking areas, but the friendly guy keeps tantalizingly ahead and let me go up to 115mph "because I looked stable enough" in his mirrors! It really does give you a good race-car feel: close to the ground, tiny gear lever, fast accelerator and clutch, amazing steering. I managed to accelerate out of the mid-way turn in 3rd and hold a gentle oversteer before hitting the limitter (didn't dare change to 4th mid-corner!) Sweeping around in the Vauxhall in the practice session at 90mph is incomparable - although sitting in a saloon with a helmet on is wierd enough.
Highly recommended!
Road and Track Ltd now do Ferrari/911/Caterham drives too!