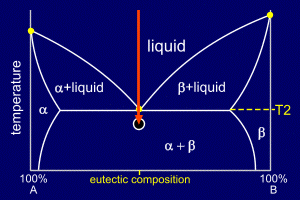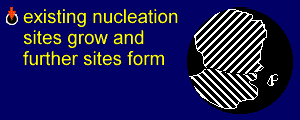 As the alloy continues to cool the existing nucleation sites will grow, adding alpha to alpha and beta to beta.

These nucleating and growing regions of solid alloy will form grains. Grain boundaries occur where growing grains, which will be of differing orientations and from different nucleation sites, meet.

Further nucleation sites will continue to form within the liquid parts of the mixture. Remember, though, this happens over a very short time scale and with no further decrease in temperature. The eutectic composition solidifies, like a pure element, at a single temperature, not over a temperature range.