VASARI:
Visual Arts System for Archiving and Retrieval of Images
The VASARI project developed a colorimetric scanner system for direct digital imaging of paintings. It provides higher colour accuracy than conventional film and high resolution, so it can be used to replace film photography. Although the project was funded between 1989-92 technical development has continued since then, including improvements in lighting, software, calibration and colour targets.
Here is an early picture of the VASARI scanner in the National Gallery in London.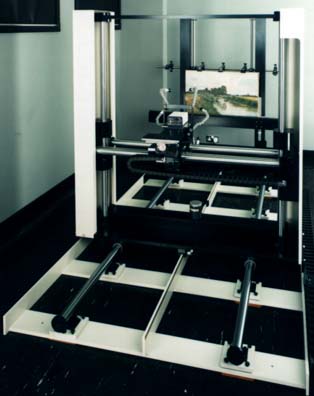 The scanner moves a CCD camera to capture areas which are later "mosaiced" together into a higher resolution image, which is calibrated to CIE Lab values by using images of test charts. The whole scanner can be moved back to allow paintings to be installed. The camera can move slightly forwards/backwards to allow automatic focusing (and hence keep the resolution the same).
The scanner in the National Gallery is used to produce images with 20 pixels per millimeter of paintings from seven colour bands spanning the visible spectrum. These images are so large (around 1GByte each) they required powerful VIPS image processing software and have been stored on optical disks, CDr and now RAID systems. They are used for publishing, scientific analysis and conservation. This includes studies of surface texture and colour change.
A second scanner was built in the Doerner Intitute in Munichwhich is also used for infra-red imaging. The MUSA project produced a third scanner in the Uffizi Gallery in Florence.
The Londonand Florencescanner mechanics were built by Time and Precision, BasingstokeUK. They had to be strong enough to stay straight and consistent as the camera moved.
This is the front view of the scanner – showing the light pipes.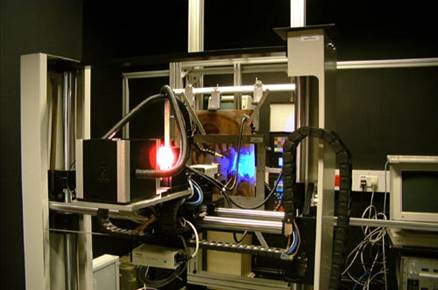 This is a view of the National Gallery scanner in 2001. Notice the colour/test charts.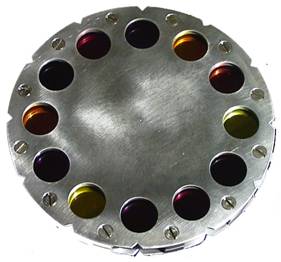 This is the recent filter-wheel in the lighting system, which was produced in the workshops in ECS in the University of Southampton. It added filters further into the infra-red region so that visible and IR images could be taken in one session.
Links and News
BBC article including interview with David Saunders
Follow-on projects:
MARC – which made a more portable scanner - eventually imaged the whole Gallery
Viseum – which worked out how to browse the huge images on the Web
ACOHIR – which used the colour calibration to image 3D objects like sculpture and pottery and extended the Viseum viewer.
The Artiste Project – which provides image-based searching of art works.
---
VASARI project participants
BRAMEUR LTD - UK
DOERNER INSTITUT - D
TELECOM PARIS - F
NATIONAL GALLERY - UK
THOMSON INFORMATIQUE SERVICES - F
BIRKBECK COLLEGE, UNIVERSITY OF LONDON - UK
TÜV - D
GFAI - D
SIDAC SPA - I
SYSECA - F
DIRECTION DES MUSEES DE FRANCE - F
Funded by the European Community's ESPRIT III programme