Virtual Workshop - AI and Defence: Readiness, Resilience and Mental Health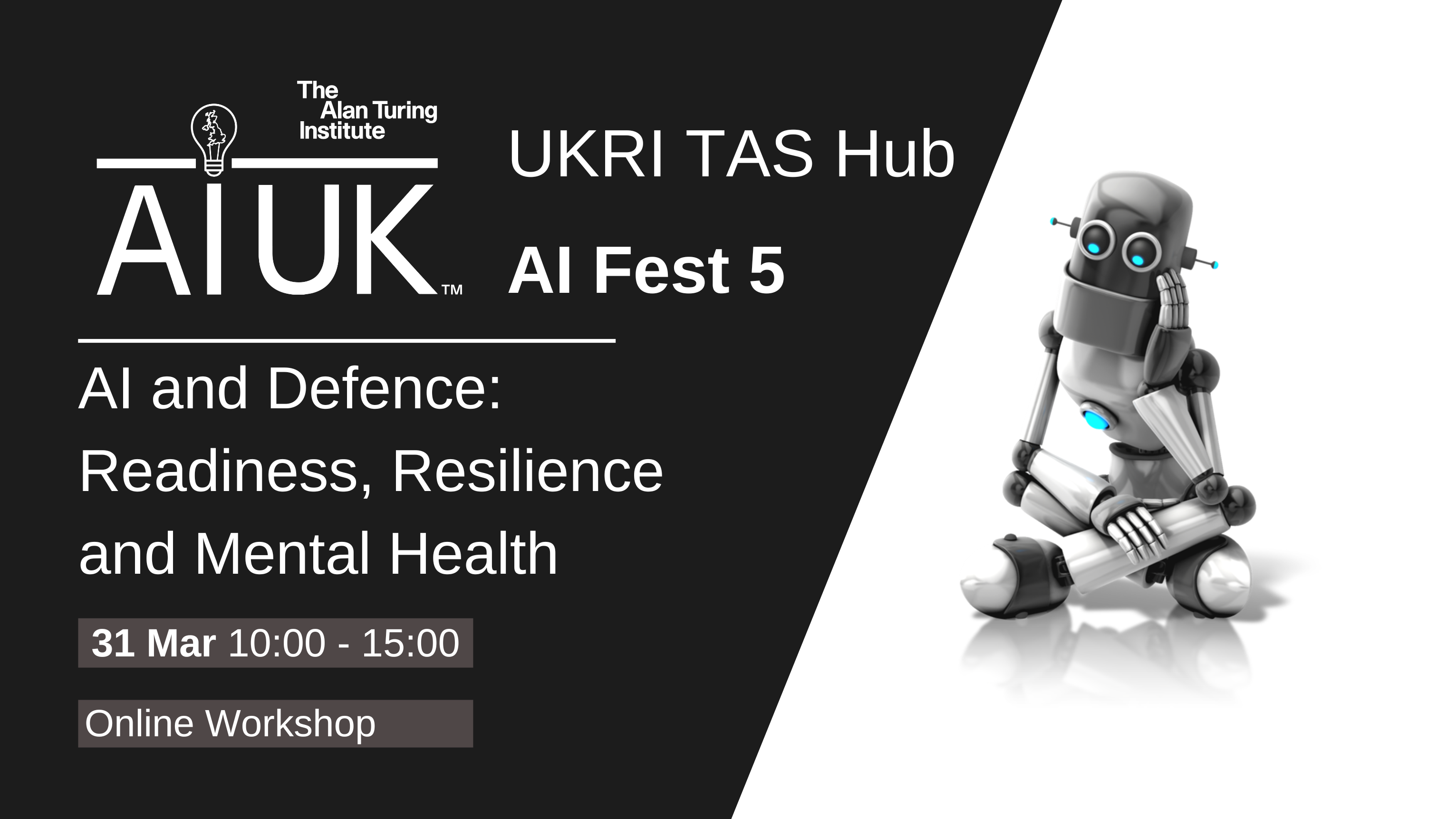 Scope
Artificial Intelligence (AI) is a cross-cutting technology that is making a major impact on behavioural analysis in both the defence and mental health sectors. Getting AI right can boost readiness and resilience of military personal.
Examples of AI for defence include machine learning of app-based self-reporting, blood test data and vocal pattern data for Post-Traumatic Stress Disorder (PTSD), and Natural Language Processing (NLP) of social media/IoT conversations to identify signs of radicalization in the context of counter extremism. Examples of AI for mental health include image processing of brain scans to identify biomarkers associated with depression, automated analysis of electronic health record data, NLP for emotion and mood classification, and social media/IoT monitoring to predict or classify mental health illnesses such as depression, schizophrenia or other psychiatric illnesses including suicide ideation and attempts.
This workshop seeks to bring together researchers and practitioners working on and with AI in the Defence and Mental Health sectors to share experience gained and lessons learnt between these disciplines. We will discuss the key challenges AI faces today in these areas and attempt to signpost the current directions of travel within AI research to overcome these challenges in the short and medium term.
This workshop is hosted as part of DSTL's AI Fest 5 event and is a AI UK-2023 fringe event. It is also supported by the UKRI TAS Hub grant EP/V00784X/1 and ESRC funded ProTechThem grant ES/V011278/1.
This event is part of AI UK 2023. The Alan Turing Institute's national showcase of data science, machine learning and artificial intelligence research and innovation. At a series of events between 6 – 31 March 2023, AI UK Fringe brings together leaders in academia from across the UK's AI ecosystem to demonstrate, exhibit and update on their ground-breaking work. Examining the current and future landscapes of data science and AI in real-world settings, leadings minds discuss solutions to the most pressing concerns of our times, from environmental sustainability and health and life sciences to national security, defence and a data-driven economy.
We're excited to be part of AI UK Fringe this March and can't wait for you to join our community and contribute to key conversations. Find out more about AI UK at ai-uk.turing.ac.uk
Participants
We invite potential participants from a wide range of areas as we expect the findings and wider AI challenges identified during this workshop will transfer well beyond just the defence and mental health sectors.
Workshop Themes
Practitioners experience with AI in defence and mental health domains
Transferring AI research between mental health and defence domains
Role of AI in society for mental health and defence
AI's capacity to help improve mental health
AI-driven decisions impact on mental health

Organising Committee
Dr Stuart E. Middleton, University of Southampton, UK
Dr Alec Banks, Defence Science and Technology Laboratory (DSTL), UK

Confirmed Speakers
Captain Patrick Hinton, British Army and Royal United Services Institute (RUSI), UK
Prof Ana Basiri, University of Glasgow, UK
Prof Maria Liakata, Queen Mary University of London, UK
Dr Sarah Ashbridge, Royal United Services Institute (RUSI), UK
Dr Brant Chee, John Hopkins University, USA
Dr Daniel Leightley, Kings College London, UK
Dan Adler, Cornell University, USA

Important Dates and Registration
Workshop registration is free via this eventbrite link. This workshop will run virtually on March 31, 2023 the week before the main AI Fest 5 event. Please also register for the main AI Fest 5 event using this AI Fest 5 registration link and the AI UK 2023 conference.
Once signed up for the workshop via eventbrite you will receive, via email the week before, a MS Teams link for the virtual session on March 31, 2023.
Schedule
Welcome (10 mins) – 10:00
Dr Stuart E. Middleton
Dr Alec Banks

Keynotes – 10:10 (chair Dr Alec Banks)
Captain Patrick Hinton & Dr Sarah Ashbridge - Resilience in Defence: The Case for Exploitation of AI/ML to Improve Readiness
Prof Ana Basiri - Spotlight: Projects under The Turing's Defence and Security and DSO Partnership Programmes
Dr Daniel Leightley - Managing The Mental Health of the Armed Forces: The Role of Digital Health Technologies and Personalised Healthcare
Format is 15 mins keynote with 5 min Q&A each

Panel Discussion – 11:10
Format is 20 mins 'fireside chat' from keynote speakers, then 20 min open questions and discussion from the floor
Lunch break – 12:00
Keynotes – 13:00 (chair Dr Stuart Middleton)
Prof Maria Liakata & Dr Stuart Middleton - Time-sensitive Sensing of Language: Understanding Changes in Behaviour for Mental Health Applications
Dr Brant Chee - Suicide Understanding: AI Models and Military Suicide Ontology for Evidence-Based Military Suicide Understanding
Dan Adler - Mental Health Digital Biomarkers: Moving from Research to Implementation
Format is 15 mins keynote with 5 min Q&A each

Panel Discussion – 14:00
Format is 20 mins 'fireside chat' from keynote speakers, then 20 min open questions and discussion from the floor
Closing remarks – 14:40
Dr Stuart E. Middleton
Dr Alec Banks

Finish – 15:00
Community Building
Workshop chairs will email after the workshop a participant and speaker list with contact details to facilitate further networking and community building in this domain. Participants can opt-out if they do not wish to appear on the particpiant list.
Contact
Questions about workshop and registration should be emailed to Stuart E. Middleton {sem03}@soton.ac.uk