Visit us at one of our University Open Days and find out what it's really like to study here.
Get a feel for university life, learn about subjects, degrees and courses direct from our academics, join us for tours of campuses and facilities, and get our tips for applying to study here.
Open Day options for 2016
Booking is essential for each of these Open Days:
Unable to attend one of our Open Days? You can explore the University and our campuses at any time and from anywhere in the world using our Virtual Open Day.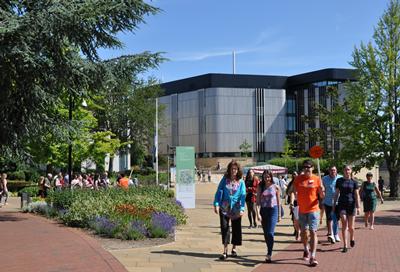 Southampton campuses Open Days
Booking is now open for our 2016 Southampton campuses Open Days.
Southampton campuses Open Days include our Avenue, Boldrewood, Highfield and Waterfront campuses (National Oceanography Centre Southampton).
Saturday 3 September
Sunday 4 September
Plan your day
For detailed information about what to expect on the day, including parking, programmes, accessibility and more, visit our Plan Your Open Day pages.
Use the step-by-step guide to prepare for your day once you've booked your place.
Please note that the Southampton campuses Open Days do not include our Winchester School of Art campus.
If you are considering a bachelor of arts degree in the following subjects please book on to the Winchester Campus Open Day: Graphic Arts, Fashion & Textile Design, Fashion Marketing/Management, Fine Art, or Games Design & Art.
Winchester Campus Open Day
The next Open Day at Winchester School of Art will be held on:
Saturday 3 September 2016
Registration is now open.
For other Winchester School of Art Open Day dates please see the Winchester School of Art website.
Malaysia Campus Open Days
Our Malaysia Campus Open Days are for students considering an Engineering Foundation Year or a master of engineering degree (MEng) in Aeronautics and Astronautics, Electrical and Electronic Engineering, and Mechanical Engineering.
The next Malaysia Campus Open Day will be held on:
Registration will open shortly.