Once you have applied to study with us, you will be invited to a visit day. Whether you get invited before or after your offer will depend on the subject that you have applied to study.
A visit day is a fantastic opportunity for you to see what a degree at Southampton has to offer and what studying at the University is really like.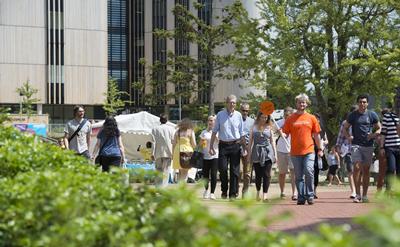 During the day, you could have one-to-one chats with your future lecturers, find out about subject-specific content from your chosen course, attend a taster lecture to gain first-hand experience of learning, enjoy a campus and/or accommodation tour and chat to current students about their experiences.
If you cannot make a scheduled visit day, you may be able to arrange a visit. Contact the academic unit that you are applying to - contact details can be found on our website.
Visit day pack
Along with your visit day invitation you will receive an information pack containing maps, a timetable of the day, parking permits and a brochure from your subject area.
Planning your visit
There are plenty of places to stay and visit during your visit to Southampton. To help you plan your visit, we have created a Google map with some recommendations of hotels, restaurants, bars and attractions.