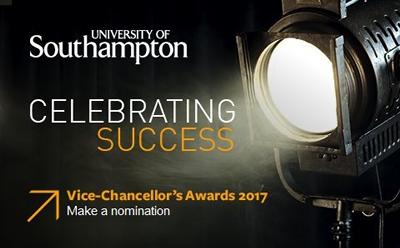 The Vice-Chancellor's Awards are your opportunity to shine the spotlight on a team or individual whose passion, creativity, unique skill set and approach enhance the University's reputation by bringing our simply better strategy to life on a daily basis.
Shortlisted nominees will be invited to attend a formal dinner as part of the Vice-Chancellor's Awards Event, taking place on Friday 13 October 2017 at St Mary's Stadium, Southampton. With awards being presented between courses, this prestigious evening will celebrate the extraordinary achievements of our shortlisted colleagues and overall category winners.
There are 12 named Vice-Chancellor's Awards, each of which emphasizes an important component of our strategy. Below, you will find a drop-down list with descriptions and examples of the 12 award categories to help inspire your choices.
Have an individual or team in mind? Awards are open to University-wide nominations from individuals and departments. Making a nomination is straightforward. To make a nomination for categories 1-11 simply click on the link below. To make a nomination for a Teaching award, please contact the Executive Assistant for your Faculty.
Nominations will close at 17:00 on Friday 9 June 2017.
To watch the President and Vice-Chancellor's videos about the new Vice-Chancellor's Awards please click the following links: