High quality childcare for students, staff and local parents.
Open 8:00-18:00, Monday to Friday for children aged three months to five years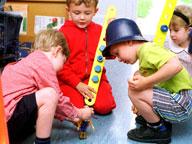 Based at the Highfield campus at the University of Southampton, the Early Years Centre offers stimulating childcare with a focus on learning through play.
Learning, stimulation, and support
Our highly qualified and experienced staff follow the Early Years Foundation Stage curriculum, planning activities and opportunities that your child will enjoy and be stimulated by. We are also keen to communicate closely with our parents so that we can better understand and cater to your child's individual interests.
Our facilities
We can offer plenty of on-site variety to all of our children with our sensory room, soft play area, outdoor play equipment and a separate garden for digging, planting and learning about nature.
Activities and events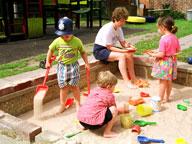 We run a range of activities for our children regularly, such as:
music minors' classes that include sensory play and dancing
talking tots' classes which combine games, songs and rhymes
fit kids' which offers music and movement classes within the University's Sports Centre
zoolab, an educational and fun animal handling workshop
the book bus which makes termly visits for on-board story time
We also put on a range of seasonal events including a Christmas party and carol singing, a teddy bears' picnic in the secret garden at the University grounds, and an end of year Graduation ceremony for preschool children.
Fees
Morning Session

8am - 1pm

Afternoon Session

1pm-6pm

Full Day

8am-6pm

Student Parent
£22.72
£20.60
£43.32
Staff Parent
£24.75
£22.67
£47.42
Public
£26.83
£24.70
£51.53
What do my fees cover?
our wide range of activities and events
healthy mid-morning and mid-afternoon snacks
a hot lunch prepared by our own dedicated chef
nappies and wipes are not included - please bring your own supply
Policies
The Centre's policies on topics such as safeguarding, diet, first aid and sickness and allergies can be found on their website.
Contact the Early Years Centre
If you have any questions then give us a call on 023 8059 3465 or email us here
Book sessions and purchase clothing
Book and pay for your regular childcare sessions here, or buy early years centre hoodies and polo tops for your child (available in a variety of colours).