The English for Academic Study Programme is aimed at international students who are planning to come to the U.K. for undergraduate or postgraduate study and who need to develop their English language and academic study skills before starting a degree programme.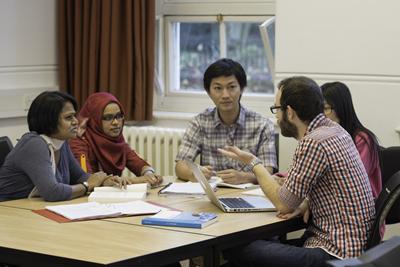 The course is designed to increase your confidence and fluency in language use in formal and informal academic contexts and will prepare you for the many different forms of interaction with other speakers of English, which will be a feature of your life both within and outside the learning environment.

The course will also concentrate on the learning and teaching methodology in use in Britain (e.g. seminars, essay writing, listening to lectures, note taking, use of the University library, research skills, critical thinking, time-management and many more).
Course Structure
The course is divided into three parts and it is expected that students apply for ALL parts or Parts 2 and 3.
Each part provides a full-time programme of study based in the Centre for Language Study at the University's Avenue Campus and Highfield Campus.
This is a full time course that cannot be studied in parallel with another course at the University of Southampton. The programme focuses on academic writing, listening and note taking, reading, grammar, pronunciation, and speaking skills. Independent study will also form an important part of the course.
Each week, you would normally receive 10-12 hours reading and writing tuition, 8 hours of listening and speaking tuition, 3 hours of independent learning tuition, 3-5 hours of general language development, 2 hours of IELTS skills practice along with tutorials with your tutor.
PART A (Semester 1) (14 weeks)
Start date 29 September 2016
Minimum IELTS 4.5 Overall and in each component
Part A is designed for students with a minimum level of IELTS 4.5 in each of the skills. You will be introduced to academic English and will develop your awareness of and confidence in the English language, as well as build your knowledge of general English language.
PART B (Semester 2) (15 weeks)
Start date 30 January 2017
Minimum IELTS 5.0 Overall and in each component
Part B is designed for students with a minimum level of IELTS 5.0 in each of the skills. You will focus primarily on English for academic purposes. You will develop your listening, reading and writing skills in academic English, as well as develop your research skills and speaking skills needed in seminar discussions and presentations.
PART C (Semester 3) (10 weeks)
Start date 3 July 2017, End date 8 September 2017
Part C is designed for students on the EAS course who have not achieved the level required* to progress on to their degree programme at the end of Semester 2. It is also available to EAS students who meet their English language requirement at the end of Semester 2 but wish to continue their studies during the summer. This course will extend and consolidate the learning from the previous semesters.
In Semester 1 and 2, during Week 13 and 14 students will undertake a slightly different timetable. Week 13 will be an exam week supported by Independent Study and tutorials. Week 14 will be a study week preparing students for the new semester. This will include a reduced teaching timetable with more Independent Study 'drop-in' sessions and tutorials. Students will be able to receive additional feedback from their tutors which will help them prepare for the new semester. Part 3 will also have a slightly different timetable in Week 9 and 10 preparing students for their summative assessment
*Entry requirements may differ with each Faculty – students should check with their admitting Faculty what these are.
To apply for this course
For further details on these courses including forthcoming dates and fees please click on the PDF document to the right of this page. To apply, please send the completed application form (also on the right of this page) to English Language Admissions. Contact details are below.
Contact us:
For an application form, or for more information about the EAS Course, please contact:
Tel:
+44 23 8059 3344
Email:
elaccess@southampton.ac.uk
Post:
English Language Admissions
Recruitment and Admissions Team
Humanities
University of Southampton
Highfield
Southampton
SO17 1BJ