Our 'Insider's Guide' webinar series offers a unique perspective on life at Southampton by the people who know best – our students!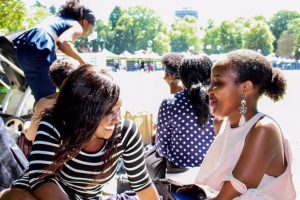 Church barbeque at Hoglands Park
Our Ghanaian student host was LLB student Doreen, who described her first year in Southampton and gave her advice on how to survive the cold, the British sense of humour and the challenges of being an international student in the UK:
British people are great but beware the sarcasm!
From the minute you arrive, British people are super helpful and will go out of their way to accommodate you and make you feel at home, whether it's answering your questions or helping you with directions when you get lost.  Just be careful of the British sense of humour – the sarcasm can take some getting used to but you will understand it eventually (and maybe even find it funny!)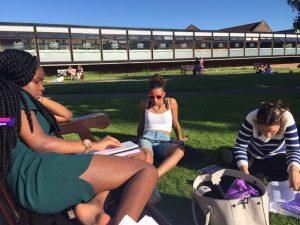 Studying for exams while enjoying the sun
All the flavours of home
It is important to try British food while you are here, but if you fancy a break from fish and chips, you can get all the essential ingredients from home right here in Southampton.  Check out the Global Halal Shop in St Marys Street and the International Food Store in Portswood.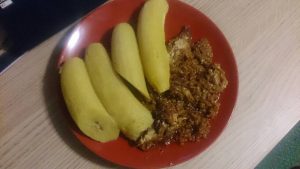 Plantain with garden egg stew
Work, work, work
We all know that a degree is not enough when you are looking to get a good graduate job.  Luckily, the University offers a million different opportunities for you to get professional skills and work experience alongside your studies.  From sandwich year programmes and subject specific careers fairs to the University's award winning Excel Internship Programme, there is something for everyone, whatever you plan to do after graduation.
Prepare to be challenged
Even the smartest students will feel challenged by the UK education system, which is a world away from what you are used to back home or at school.  Here, you will need to think for yourself and will be exposed to perspectives and theories from all over the world.  Come with an open mind, be adaptable and willing to try new things and hear new ideas.
Where to live?
If this is your first time in the UK, then the University accommodation is a great choice as it's clean, safe and well-located, with something to suit all budgets and preferences.  The only thing you can't choose is your flatmates but the University will try hard to match you with people from your course and the experience of living with other people will teach you a lot about cooperation, teamwork and diplomacy!
Don't forget your sweater!
Let's face it, Britain is not known for its hot weather; in fact, it's usually downright cold, which can be quite a shock when you first arrive.   But fear not – the University accommodation service is well prepared for dealing with shivering international students and you can borrow a heater or two free of charge to ensure your room is nice and toasty all winter long.
Life is an adventure…
Choosing to study in the UK is both challenging and exciting but really the only way to make the most of it is to dive in head first!  Do everything, see everything and don't sit still for a minute!
If you would like register for our next Insider's Guide webinar, please click here