My name is Edgar, a Santander Scholar from Mexico that graduated as a Master of Web Technology on December 2016. Studying in the UK was hands down one of the best experiences I've ever had, and naturally I couldn't miss the chance of sharing my story with you.
Pursuing a Master was a goal I considered since I got my Bachelor's degree years ago. Though I made a pause to gain professional experience, my vision never changed. My dream of coming to the UK started materializing in October 2014 when I received several offers to study here. I chose Southampton based on their academic reputation, as they offer a world-leading education that has placed them among the top ten Universities for Computer Science in the UK and top 100 around the world.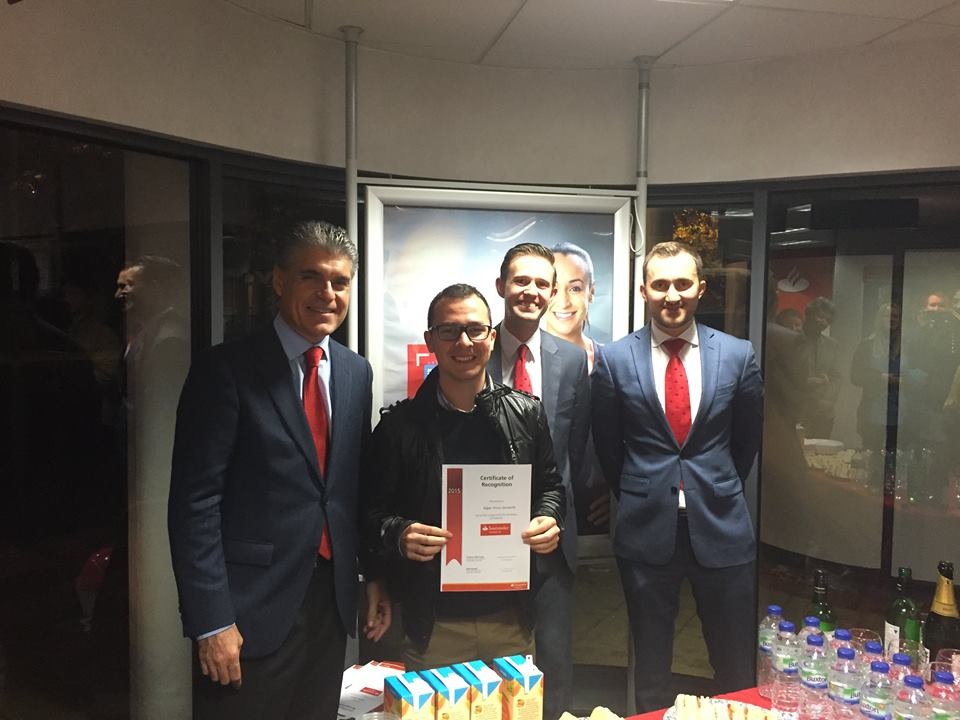 Picture: Receiving the award as Santander Scholar at the Students and Staff Reception hosted by Santander Universities (27-Oct-2015).
My time at Southampton was incredible from day one. I had the opportunity to attend world-class lectures given by prodigious professors and researchers who are addressing some of the key issues facing the world nowadays, also to explore the beautiful Island and get a taste of its culture, as well of making lovely friends from all over the world. The University offers an excellent and inclusive environment where creativity and innovation are expressed at their highest, providing superb facilities, well-equipped labs and green areas all over the campuses; I personally felt honored of having all these benefits at my disposal. The education model is pretty challenging, my program was indeed very demanding and required me to step out of my comfort zone, empower my self-learning skills and read, read lots of papers. Clearly, there were moments of frustration, but winning through in the end was enormously satisfying and motivating.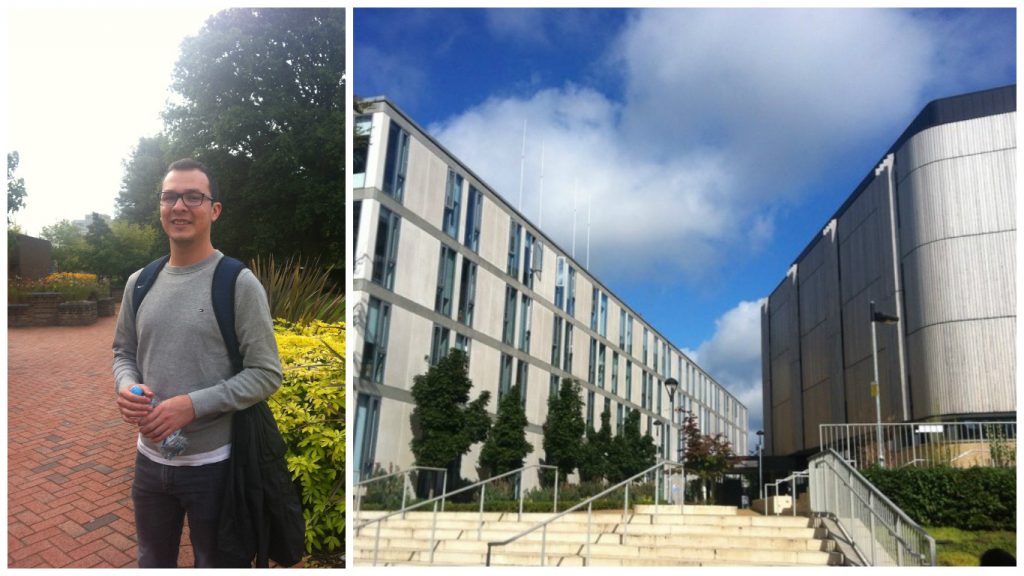 Picture: Exploring Highfield campus for the first time (18-Sept-2015).
As an international student, there were certain things I had to overcome during this journey, perhaps the most important was the language as I'm not a native English speaker, plus bit of the British accent which I truly love so much, but was confusing at the very beginning. The weather wasn't much a problem for me, I actually didn't find the South coast much cold. Yes, it rains a lot and the rain is very unpredictable, checking the forecast every morning became a basic habit. I witnessed the British love-hate relationship with the rain and what a great ice-braker it is for initiating conversations – you'll probably hear a "sorry for the weather" from Britons. Food was another limitation I faced, there's nothing like the flavors you can get at your home land. Nonetheless, I managed myself to be a great cook – yes, I did and my flatmates loved it. The staff was a fundamental piece for overcoming social and academic barriers, they do it really well at making students feel comfortable and confident, kindly offering a huge range of activities and sessions running during the first weeks to help students settling down in the city and getting involved in the new culture. Additionally, you can always lean on your classmates and flatmates – "mate" is one of my favorite words now. There is an atmosphere of cooperation on which everybody is willing to help when asked.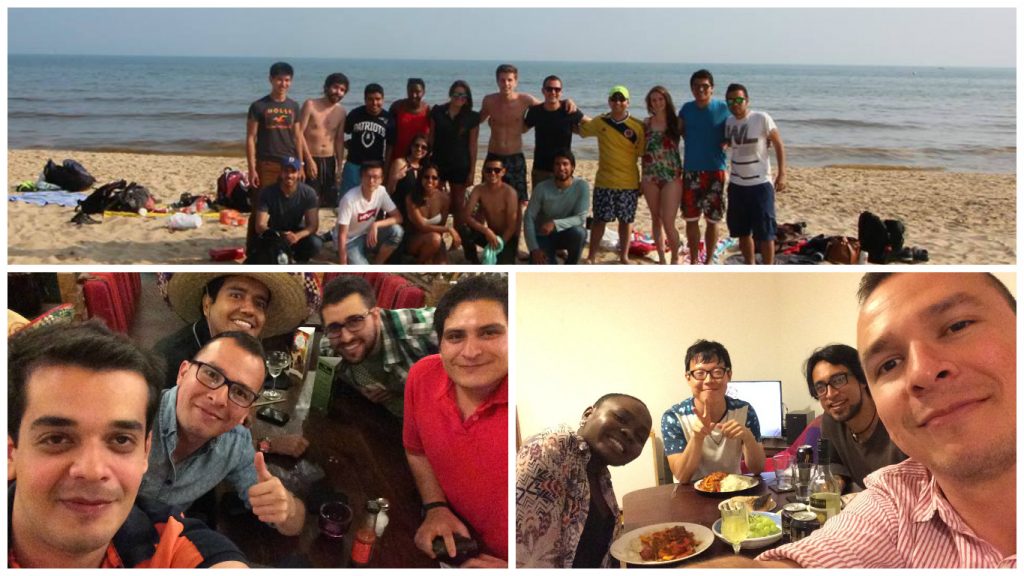 Picture: There were always good times to gather around with friends and enjoy our free time (2016).
Apart from the academic aspect, one of the most valuable things of this journey was discovering a complete new horizon, making friends from very different countries and backgrounds broadened my vision of culture diversity. I learnt a lot from their experience and stories. I also had the opportunity of visiting many amazing places and cities not only inside the UK (London, Oxford, Stonehenge, etc.) but also around Europe (Paris, Rome, Prague, Amsterdam, Berlin, etc.). I absolutely made the most of every minute I spent traveling and I'm blessed of getting to see how wonderful this world is and how tiny we are.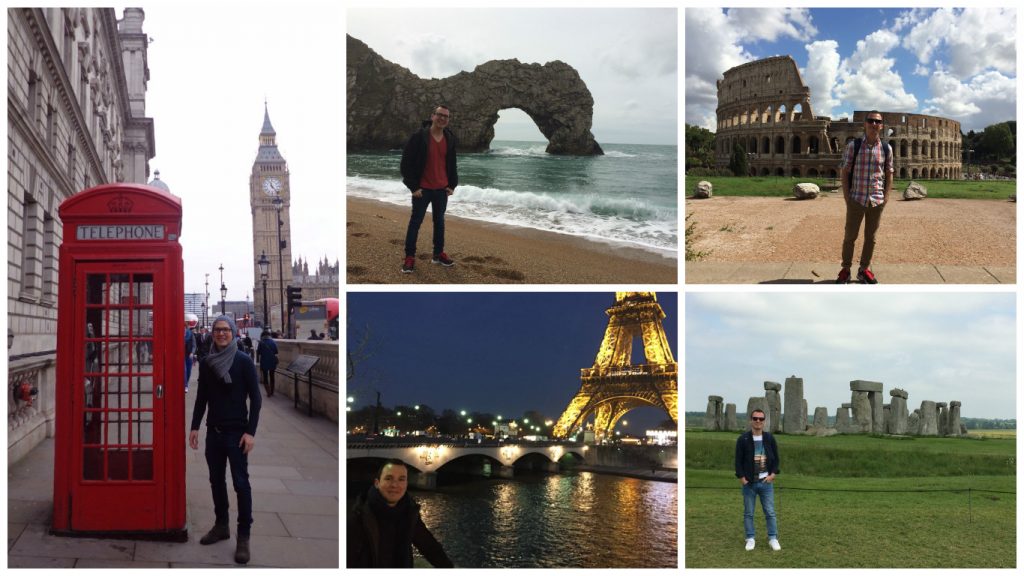 Picture: Some of the lovely places I visited during my time at Southampton (2015-2016).
Having successfully completed this Master was a major achievement for my academic formation, but also a life-time experience that allowed me to overcome my fears and be a better person. I'm deeply thankful with everyone at Southampton for making this an unforgettable experience, especially with Santander Universities for giving me the chance of writing this chapter of my life-story. I absolutely recommend this path to anyone out there who are seeking to grow their skills and have a memorable time studying abroad. The University of Southampton has everything you need to succeed, you only need to put your heart and effort on what you do.
Edgar Perez
Santander scholar