What makes someone apply to the University of Southampton to study a postgraduate taught (PGT) course, such as a masters degree, and what issues do they face in doing so?
While the University had some understanding of the experience of its prospective postgraduate students, we had no definitive research around this.
We all know that course specifics are important. What we learned is how course pages were critical in ensuring the right outcomes. Here's how we found this out:
Finding out about PGT students
Our small team of a delivery manager, a service designer, a content designer, SEO specialist, a business analyst and a user researcher started by getting feedback from university staff on what they understood about PGT students and their motives and needs. They helped us contact current and prospective students from around the world to run in-depth interviews with them.


The first step leading to personas – collating comments and categorising groups
Over the course of 3 weeks we spoke to nearly 60 students from a range of disciplines and countries. From these interviews we created three main user personas – very general archetypes, based on evidence, of the kind of people who want to study at the University of Southampton.
Creating personas helped us to broadly understand groupings of users based on their needs and motivations. These motivations are varied, but were centred around career and academic motivations. 
This tallied with overall views and expected outcomes we had when  we started, but having data to validate our initial hypothesis was a key objective for discovery. This meant we could plan next steps with real confidence. We also found some regional variations that came into play, along with a different approach for researching PGT compared with undergraduate research. 
Mapping the student journey
To help us understand how the student experience changes over time in terms of engaging with the university, we mapped the PGT experience. We went from the initial point when someone considers postgraduate study through to applying, studying and completing the course.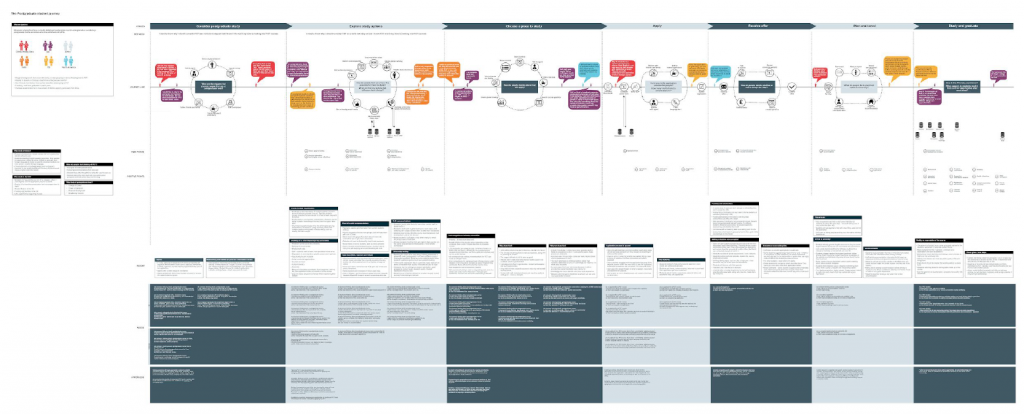 Our PGT user journey
We used the stages to frame insight gained from both internal staff and students. The end-to-end journey map helps us understand both the relationship between different stages and to acknowledge the joined-up nature of the end-to-end student journey, from the point of view of the user.
To this, we mapped the user needs we uncovered – things that we interpreted as being important when looking for PGT courses. From these, we then reviewed where we could make the most impact.
What's next
We are now planning on improving areas where we feel we can make the most impact – in this case, improving the website. Numerous students told us about the difficulties they had in finding information and working out if a course and the university were right for them.
We'll soon be gathering stakeholders and experts together to focus on creating and testing optimised PGT course pages to make them easier to find, read and navigate.
We'll be looking at improving content and design, such as making it clearer what the entry requirements are, what the modules entails and the lecturers' credentials. But we'll also be bringing to bear the things we learned when creating new undergraduate pages. We'll be building on the good work and rapid delivery of more effective content, but also doing more with various stakeholders and more widespread trails across faculties.
We won't change all 200 PGT course pages at once, but by testing a select group we aim to make it easier for prospective PGT students to find out how the University of Southampton is right for them.
Along with course pages we found a range of areas we could look at improving. The application process itself was seen as good and one suggestion was that while the acceptance emails had lots of good information, other universities were seen as sending acceptances that got them more fired up to start and fully captured the vibe of the university. We also learnt that students want to find out more about what it's like to live and study at Southampton.
Next, we'll look at how we can improve the information students find online, making it clearer to read, easier to find relevant information and to know what to do next. We'll continue to test iterate our designs based on feedback from students and university staff, who have a wealth of expertise in the area.
P.S: thanks to Jonathan and Rob for the useful thoughts, content and words on this topic.