The goal for the OneWeb programme in this financial year is to complete the creation of a new core set of digital services and to identify major areas for innovation.
Building the new from the old
We've started with the most used and visited content, and we will continue to design new services and systems – gradually and to an agreed plan. This means turning our focus to Admissions, closely followed by Research, and then building out to cover all areas of the University. We need to move quickly, but systematically, to build the new from the old.
Why now?
Digital technologies are fundamentally changing how people and organisations work together.
The University's ongoing success depends on our ability to reconfigure everything we do around our users – learning from their activity and using data to understand how they find and use digital services, so that we can feed these back into responsive service design.
So what's next
We've been working on the roadmap for Y2. There are two ingredients to success: good planning and good execution.
Here are some more details and thoughts of where we're heading:
In the 16 weeks that made OneWeb Y1, we learned lots about joining up content. We started small and scaled up with the undergraduate course pages, creating the first building blocks to new technology. We've built a platform that can both publish content and pull it directly from university data sources, to ensure pages are accurate, optimised and relevant to users. We also investigated, in detail, the PGT admission journeys and looked at 'Research' as a whole.
Even in this short space of time, it has become clear that we can create digital services and products within the University that drive our business objectives, by meeting our users' needs.
It's also about choice
Well-designed digital services are more accessible to all users, whoever they are. For example, voice recognition and virtual assistants can improve access for some people with disabilities. They can also bring services closer to those living in remote areas, or other parts of the world. This can improve the power of our messages and reduce the time and cost of travelling to and from a university campus.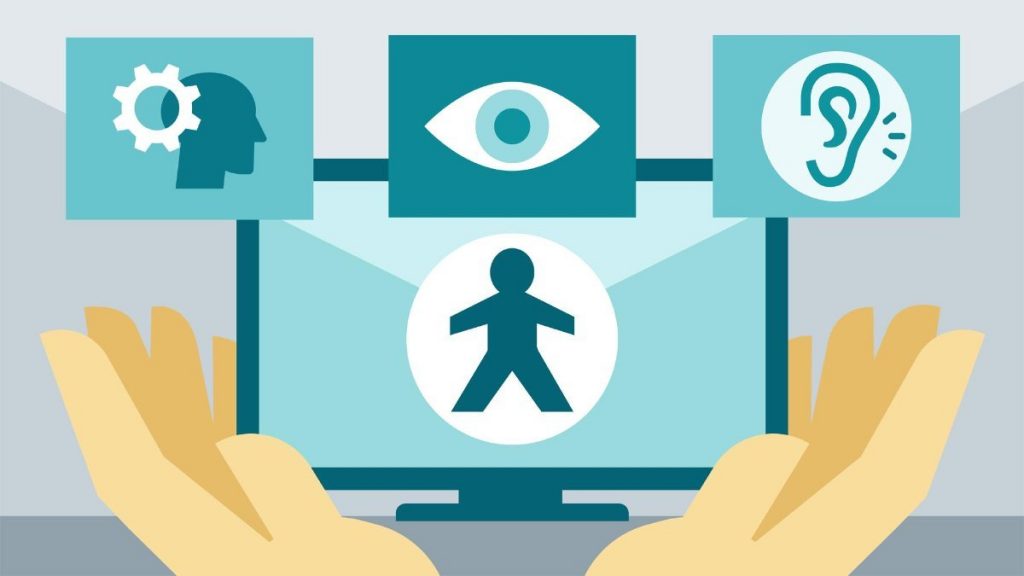 We have to ensure that our products can be easily used by as many people as possible.
At the same time, we know that some people cannot access or use digital services at all. We will continue to offer choice for everyone. Our users will be able to interact with us online through their favourite device, by phone or by visiting us.
Our vision
Being a world-leading university means changing how we do things for our users digitally. Everything has to work better.
To do that we will:
provide coherent services that are easy to discover and use
help the University communicate with authority and trust
make great digital and user-centred publishing easy
make our content easy to re-use and build on
It's going to be a busy year for OneWeb, in which we're going to change both how we do things and set a faster pace. Exciting, but it also means we have to engage with a lot more stakeholder groups.
Y2 roadmap (2019/20) is a combination of tactical, achievable, visible bits of work, alongside longer-term 'foundations for transformation' work. It will stretch us, but the reward will be worth it – southampton.ac.uk will be an even greater example of how universities should serve users.
Here are some thoughts on execution.
Our roadmap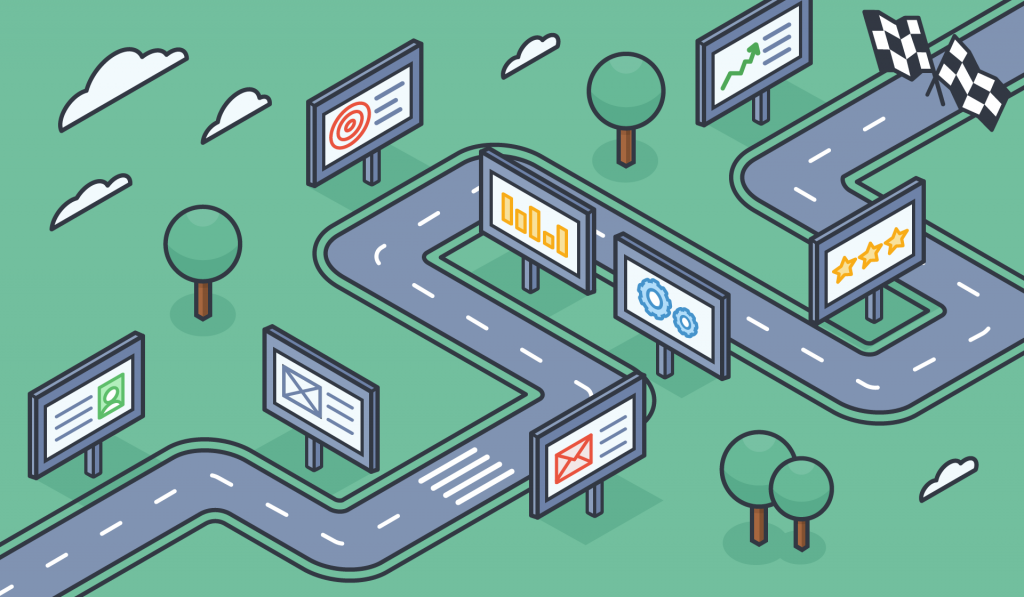 It is tempting to divide the roadmap by projects as we often do. However, we decided to theme these instead because it makes sense for our teams, and to show the breadth and commonality between streams of the programme:
Finding things
This work builds on the knowledge gained from discoveries and user journeys; what our teams have learned from education content and the PGT and Research discoveries. This could be about finding a course, facility, research group, a person, and much more.
Once more content has been created in a new platform, there is a lot of room for improvement for the site search. We heard that one of the biggest frustrations for our external and internal users is not being able to find what they're looking for. Internal and external search are two ways that users look for our content and services. So there'll be an ongoing amount of work to improve search, so that we can understand which approach works best to provide the performance and results we need.
Content transformation
This is the game changer. Bring on the technical side of content and search engine optimisation (SEO). This is about improving our content, joining it up and decoupling it from any templates and structures so we can use it in more versatile ways. The goal is a complete transition into arranging our content based on how users want to receive it.
It will mean seizing opportunities, creating new taxonomies and metadata, uncovering duplications, and getting better at understanding how we need to work on this internally so we can transform and maintain this for our users. This is a big piece of work and we will need to be realistic of what can be achieved with the time available.
Measurably build and improve common user journeys
This is the part where we are not only going to make improvements to common user journeys (such as admission journeys), but also measure the end-to-end journeys to see if we can create improvements over time.
This work will cover content, pattern, navigation changes and service design, creating a user experience that helps with task completion and also providing the experiential element and emotional connection users need.
Good products need good data
Better sharing and use of data across our systems can drive improved and targeted services for everyone. Improving analytics will also increase the efficiency of delivery and produce better outcomes.
We want to make considerable progress in how data are used to improve services. We know more can be done. Data integration and analysis will give us new insights into important and complex questions. We will work on it alongside iSolutions' Information Management project.
Build a performance platform
Digital platforms will play an important role in our digital transformation. They will provide reusable, common services to accelerate digital adoption across the University.
We are working to build common platforms that make it easy for users to deal with our organisation. We are hoping that it will enable us to work together and deliver joined-up, consistent services for our users. This will also reduce the costs and risks to our university.
To help the University thrive in the digital age, we also need to learn from and partner with innovative companies from across the globe. Part of this work is to assess new infrastructure that will provide solid security as well as being nimble enough to quickly adapt to the changing needs of our users and meet their demands faster. It means working with new suppliers, introducing more competition and as a result we should be able to drive down costs.
Decommissioning
We know that over the coming years, new opportunities and risks will emerge. Our users and university's needs will evolve and new technologies will make better services not only possible, but also expected.
This means that we need to continually engage with you to ensure digital services fit to what our users and you need. It also means that where possible, we will need to decommission services and retire content as well as platforms.
We need to archive or transition content on legacy university websites that no longer meet a user need. Some of our digital estate contains sites that were developed outside university restrictions and were originally granted exemption. Some sites contain functionality that we couldn't previously accommodate, but this may change in the near future.
Our team will need to work with iSolutions, faculties and individuals to identify websites that can close and, where appropriate, transition content to our main domain or other appropriate websites.
This will help with the University's wider objective of communicating to the world with authority and trust, while enjoying an easily manageable digital estate.
Foundation and governance: creating standards
Improvements to the website navigation, structure, language and design are always important. In order to elevate these metrics and make a difference we must have standards.
Part of this foundation work is to create best practice principles that our digital teams can use in the design and delivery of our university services, ensuring they are built from the ground up to be simple, clear and fast. Modern services mean using user-centred design. It means changes that will focus on improving functionality, accessibility and security.
Security and scalability
We're taking security seriously and will be working alongside iSolutions' cyber security workstream to identify any issues with platforms and technology, and address any security issues.
We are also looking to build tools and platforms that scale. Helping users to navigate through sequential lists of steps on our platforms, where completing an end-to-end service journey means interacting with a suite of related content and services.
This is important because it is essential to how the University would like to transform itself; in reality different departments, faculties and directorates join up in user journeys so that a user can access the information they need to effectively complete a transaction. It also means that, by collaborating and networking across hierarchies, we're likely to remove the need for poorly performing existing services and formats.
Next steps
Voila! Here is our roadmap. We will refresh and enrich it regularly – so expect more details soon.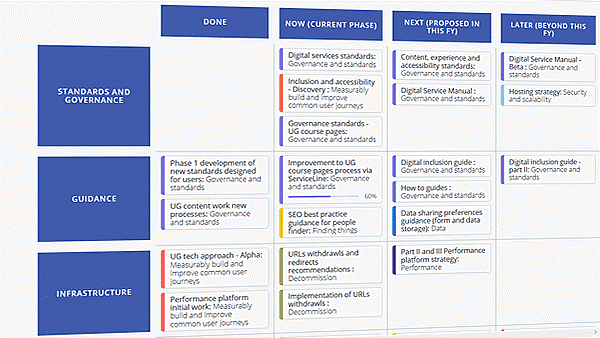 You will also be able to keep track of our progress via a dashboard of performance metrics. We've already started to form teams around each of the missions/workstreams, but we're still recruiting and we'd love you to join us.
You can check on our initial version in our project's SharePoint site. In the meantime, we will keep iterating – nothing is set in stone and we want you all to see the plan and feel excited about what's to come.
Remember: our digital presence is a living thing that will continue to grow and evolve with us long after the OneWeb programme comes to a close.
As part of the OneWeb programme, we are also considering how we get more of YOU to be involved. So, please keep up to date with our news and show and tells. If you have any feedback, please get in touch.