We are a truly international organisation, with students, partners, funders and members of staff from all over the world. But here at Southampton we have an organisational tendency to put 'international' into a little box, tie it with string and put it just over to one side. International is different, international is separate.
With some colleagues from OneWeb I've recently completed a discovery (research) project looking at how well our current website meets the needs of prospective international students. We talked to many international students and many internal stakeholders. We also did a complete usability and analytics review of the current site.
The way we as a university view 'international' internally is replicated on our current website. We try to address international user needs through specific, separate pages – the international index and country pages. We forget to present all the rest of our content in a way that answers our international students' questions and makes them feel like they will belong here. Unintentionally we are creating a sense of exclusion.
International students aren't (that) different:
We discovered that our international students share all the same user needs and motivations as our UK students, but some of the information needs to be filtered through a 'relevance lens' (don't just tell me about careers in the NHS, tell me what I can do when I go back to my home country). On top of this, international students have a set of informational needs (visas, arrivals, funding etc.) that are unique to them.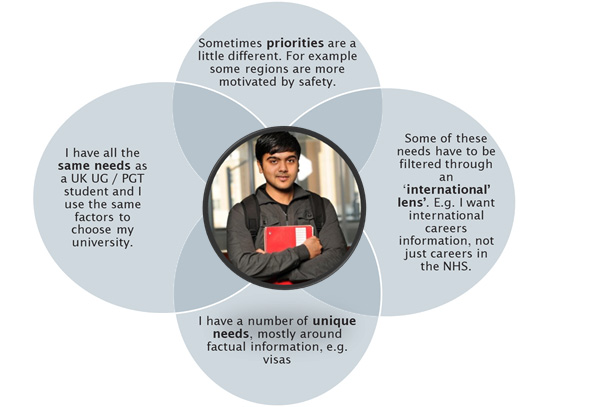 Routes to our university as an international student can be more varied and complicated than for our UK students. Even when using an agent or a partner institution, however, international students cite university websites as the most useful resource in their decision making (2019 International Student Survey). Our prospective international students are using our website just as our UK students are, investigating the course first and then exploring life and practicalities.
So, how is OneWeb going to ensure that every piece of content we create speaks to the needs of our prospective international (and EU) students as well as our UK students?
Better content, starting now:
We're starting right now with the new 'Life in' content. This content looks at our cities, our campuses, our halls of residence and our student communities. For every page we're asking:
have we answered all the key questions that both UK and international students will have?
have we represented a broad range of students in our imagery?
have we shown a range of content that will help people from the UK and overseas feel they will belong here?
have we written in plain English, without assuming any prior knowledge of idioms or abbreviations?
have we helped all our users, but particularly those from overseas, picture our city, halls and campuses and understand how those elements connect?
For example, our new 'student communities' page now highlights the rich variety of international societies our Students' Union offers, allows users to explore places of worship near our campuses and highlights the thriving entrepreneurial community we have here. We're also planning to pull-in stories from our wonderful 'uos.international' Instagram feed.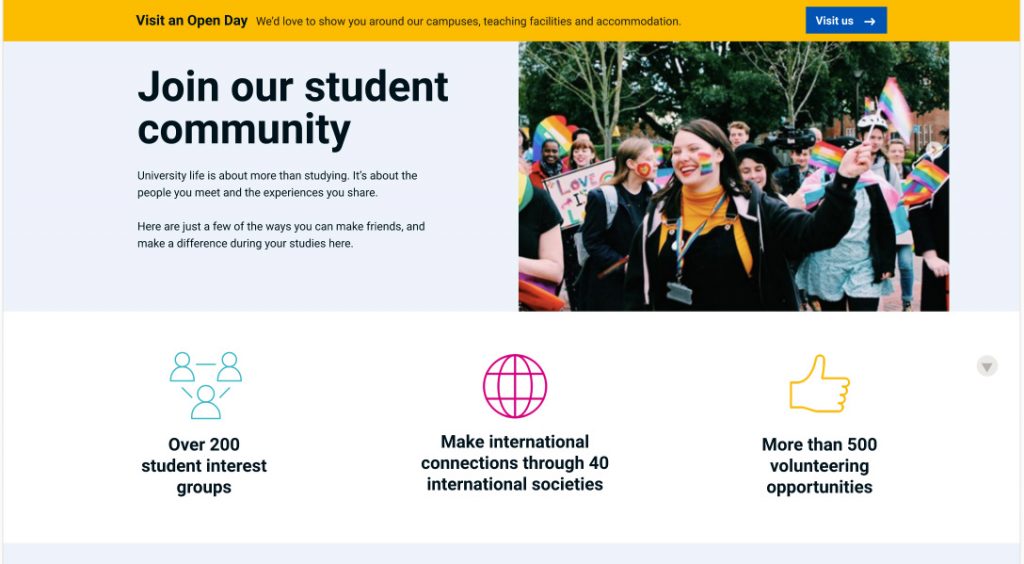 Many international students love that the UK has seasons, because they don't have them at home. When choosing our campus pictures, therefore, we're looking to reflect this and include beautiful pictures of snow and autumn as well as summer.
Spreading and embedding:
There are many teams within OneWeb working on different sections of content. As soon as we had our findings we ran a 'show and tell' for the whole team so that everyone is now working to a set of guidelines that ensure international user needs are always considered.
And OneWeb aren't the only people creating content. It's important that we share what we've learned about our international users with our marketing and communications colleagues so that all our touchpoints are inclusive.
Being international resonates with UK students too:
"68% of young people in the UK believe international experience and a global outlook are essential for their personal goals."
This kind of data tells us that we shouldn't be afraid to embed our internationalism in all our content, because our UK students also want to gain skills for a global marketplace.
We're actually adding a new page into the 'student life' section of the website that will promote the opportunities we offer all our students, wherever they come from, because we are an international university.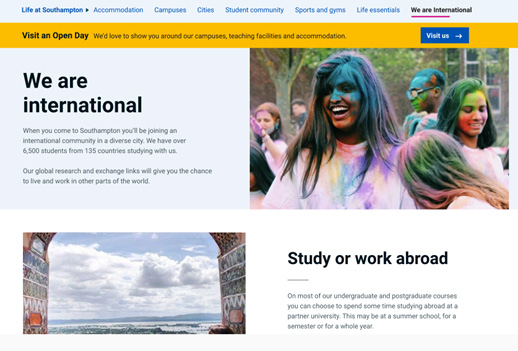 This page, and the community page, have tested really well with prospective students both from the UK and overseas.
A word about language:
As part of our research, I had a brilliant conversation with Dr Jill Doubleday, Senior Teaching Fellow in the University's Academic Centre for International Students. Jill is passionate about ensuring our teaching is inclusive and works for everybody, no matter where in the world they come from. I was relieved to hear from her that, whilst there are cultural sensitivities to be aware of (particularly in imagery) the key is writing to the principles of plain English, principles that already lie at the heart of the OneWeb project. The advice was to just keep doing what we're doing.
Data – the final frontier:
Alongside embedding international user needs in all our content, we do have some challenges ahead to meet the specific, practical needs of international students around entry requirement equivalencies, visa information and funding. These issues are ones that OneWeb cannot solve alone; they need a cross-university approach to pull together our data into formats that can feed all our digital content, embedding the data in content wherever it's most relevant. With the current challenges of COVID-19 that ambition has had to be put on ice, but I'm hopeful that in a future blog I'll be able to return and share how we have cracked it!
Thanks for reading.
If you'd like to know more about international user needs read our full discovery report.