As a… person interested in an exciting career in digital user-centred design
I want to… learn some more about current opportunities at the University of Southampton
So that I can… become a part of an award-winning digital user experience team
We're really excited to be opening up a number of brand new design and UX roles in the University of Southampton's award-winning Digital User Experience team. Whether you're already in the user-centred design industry or hoping to enter it, we want to give anyone who's interested a flavour of our work and what it's like to be part of our team.
Our story so far
We've formed the new digital user experience team to continue the work of the OneWeb programme. As part of it, you'll be responsible for delivering digital transformation across a whole organisation. You'll be inspiring and supporting the University in taking a user-centred, data-driven approach to digital operations, products and services, and building up iteratively from small beginnings to grand designs.
Our ultimate goal is all about making people's digital experience better. This means that every service must be designed around user needs, because that's the key to delivering great products and services, which in turn means we can help our university achieve its strategic outcomes.
What it's like to work here
We are:
1) User-led
We are extremely committed to really understanding our users, and have the willingness to do what it takes to deliver a user-led approach to our services. We are willing to challenge ourselves and our university in order to improve our services. This is a big part of our culture.
For a number of years, we were engaged with our university under the umbrella of the OneWeb programme. The work included some long-term design, research and product development and a lot of specialist work. This has set the tone for the next phase of a permanent team structure and some of our key priorities for the next 12-months.
We tend to refer to OneWeb as an accelerator to digital transformation work. Metaphorically speaking, it allowed us to reach Mount Everest's Base Camp. We now need to climb up the mountain and enjoy the view, continuing on this challenging, yet rewarding, journey with our colleagues.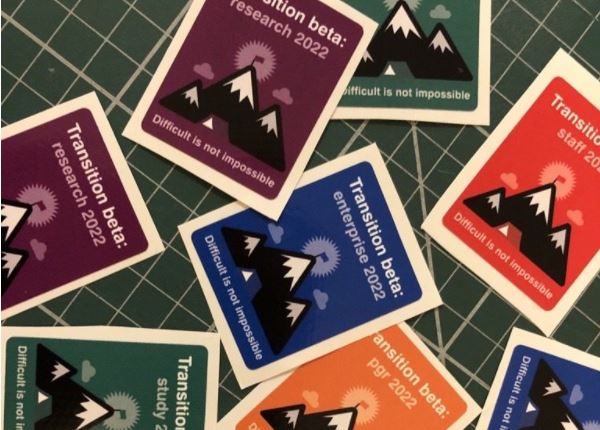 Our selection of Beta stickers featuring three mountain peaks with a basecamp below, just like what OneWeb has allowed us to achieve so far.
2) Multi-disciplinary
We're a growing team of multi-disciplinary practitioners from design and research to delivery and product management. Our team members often work across disciplines to get the best results possible. We try to create an open, democratic and self-motivated culture. We trust our team members' judgement and give them responsibilities to take actions and make decisions, always with support and discussion.
3) Inclusive
Everyone in our team has a stake in the direction that we're going in. We're interested in listening to diverse views as this often enables better outcomes. We have constructive team get-togethers to discuss the work we're doing, as well as bringing in other colleagues from different teams across the University, to get a sense of the bigger picture.
Our work is collaborative. We're a tight-knit team and incredibly supportive of each other, and everyone contributes to this team culture. The design and research capability of our team is made up of a combination of designers, researchers, performance analysts, SEO, developers, delivery and product specialists who work very closely together, supported at a management level by myself and other heads of disciplines.
We know that digital transformation can often be challenging so we put staff well-being before anything else. We're flexible around parental responsibilities and other care duties. We will always do our utmost to support our colleagues, listen and respond accordingly.
4) Ambitious
Throughout the OneWeb programme it became clear that by using end-to-end and user-centred service design we could make some big impacts for both the external user and the organisation. Establishing this connection between users' needs and business objectives lets us present some big opportunities to the organisation.
The blueprint and the initial service have been developed for key areas, providing the foundation for far more benefits and innovations in future. We're excited to work further with colleagues from all areas of the organisation on this.
5) Successful
We're incredibly proud of some of our recent achievements. As the saying goes "nothing worth having is easily gained". We have an impressive story to tell that will lead to long-lasting change.
As a new team it remains important that we continue to deliver value to help embed design thinking across different university teams, continually growing these ways of working.
We also share our experiences at different sector and industry conferences (small and large) and we encourage our team to submit talks, contribute to our blog and get invited as guest speakers to events internally and externally about how we approach user-centred design thinking.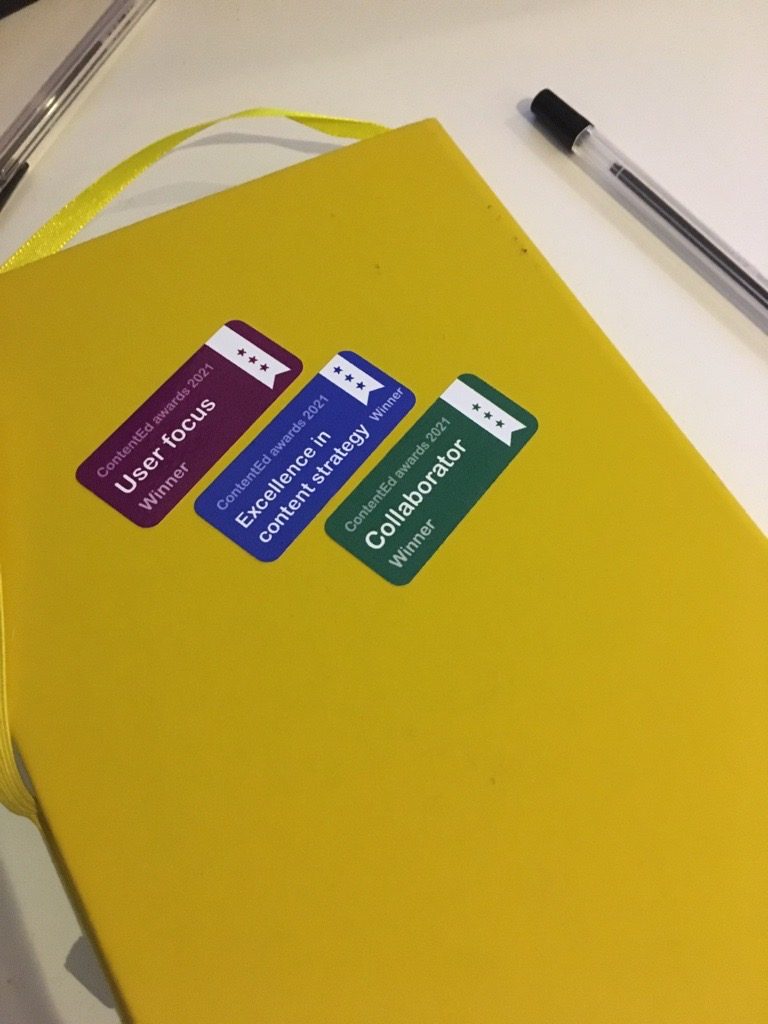 Special stickers to celebrate our award wins in December 2021: User Focused, Excellence in Content Strategy and the Collaborator Awards. 
6) Dare we say… fun?
For the past few years we've been working remotely, which meant we had to work extra hard to develop healthy relationships within our team as well as other parts of the University.
We've hosted regular bi-weekly team events, and monthly 'show and tells' with university colleagues to discuss our work, progress and how it's been achieved. We've also organised a lot of playful team building events from the comfort of our own homes when we can't meet in-person. We have held activities that involved our own award ceremonies, virtual storytelling, quiz games and much more! (We can get pretty creative and competitive with the quiz games.)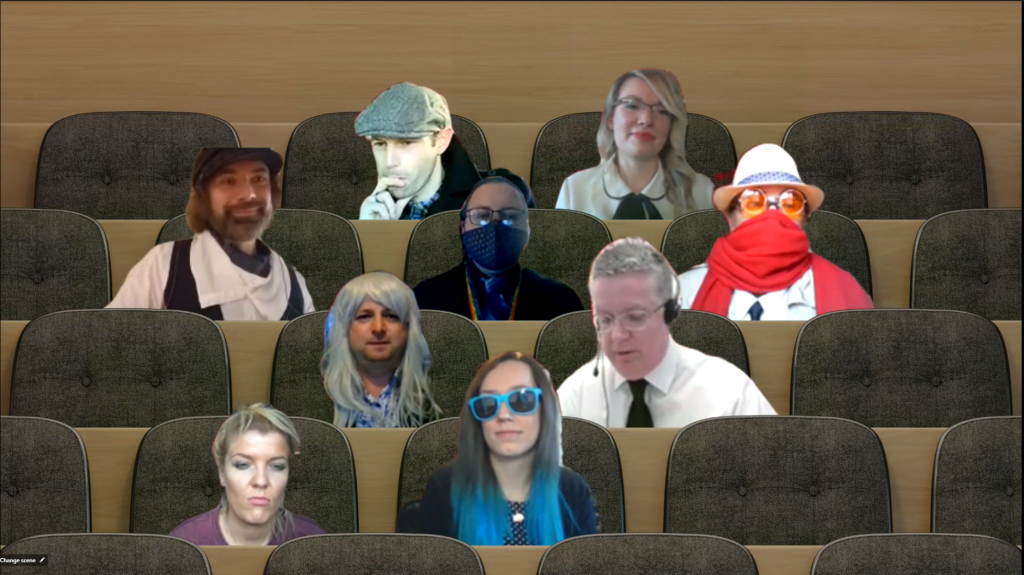 We were also the first digital transformation team to ever inadvertently combine a murder mystery party with a cutting edge fashion show.
As we're moving into 2022, we're looking at introducing some physical get-togethers to ensure we develop healthy relationships through team engagement.
Come and grow with us
How to apply
There are a number of new opportunities available as we're growing our future team.
All the jobs we're currently recruiting for are on the University's jobs site. They are:
If you're interested in working for us, and you've read the job description, please register with the website, and complete the application form.
Please pay attention to the closing date and the week we're planning to conduct some interviews.
We're planning to shortlist candidates quickly and inform you as fast as we can if you have been successful.
Still unsure?
We are always looking for new talent and people who value diversity, celebrate differences, and encourage people to be their authentic selves. We're also happy to consider applications for different working patterns and will be willing to work with you to ensure you get the flexibility you need.
If you want to talk first, or if you are:
unsure about whether to apply,
want to recommend someone else, or
just talk through the roles,
Please contact Ayala Gordon, Associate Director – Digital User Experience via LinkedIn or Twitter.