Purpose and vision
Our values provide the lens through which we make decisions, guiding our actions, collective behaviours and systems.
They are integral to our purpose of building an inclusive community that makes positive change. We are ambitious; personally, and institutionally, which requires us to be collaborative and collegial.
As a community of talented individuals, our systems need to enable and empower us. Our community upholds academic freedom and develops through constructive, civil debate. Ensuring different views are heard allows us to make the best decisions.
Egalitarian
We champion equality, diversity, and inclusion in all we do
Respect, compassion, and curiosity for what makes us different strengthens our community and the communities we serve, enabling mutual success. People who feel welcomed, included, and valued will use their differences to create and enjoy a transformative experience that drives positive change in the world.
Environmental sustainability
We embed environmental sustainability in everything we do
The climate emergency and ecological destruction are among the greatest challenges the world faces. By embedding sustainability in the ways we operate, in our education programmes, and addressing its urgency in our research and enterprise, we will shape a more positive future locally and across the globe.
Transformational leadership
We have transformational leadership that enables and empowers people to thrive
Everyone in our community, together with those we serve, deserves to have their talents developed to the full so they can succeed in achieving their ambitions. Leaders at all levels of the University will continue to live our values and shared purpose to achieve this.
Agility
We are agile, flexible and harness new ways of working to benefit all
We will integrate digital technologies into all areas of our business, fundamentally changing how we operate to create value for people and the planet. We will ensure the impact of our new knowledge helps the world to change for the better.
Collaborative
We build sustainable, inclusive communities through strong partnerships
We will work with partners ranging from industry to the third sector to improve the lives and environment of people across diverse communities in a just and responsible way. This will be achieved through the outcomes of our education, research and enterprise, and the skills and contributions of our alumni and supporters.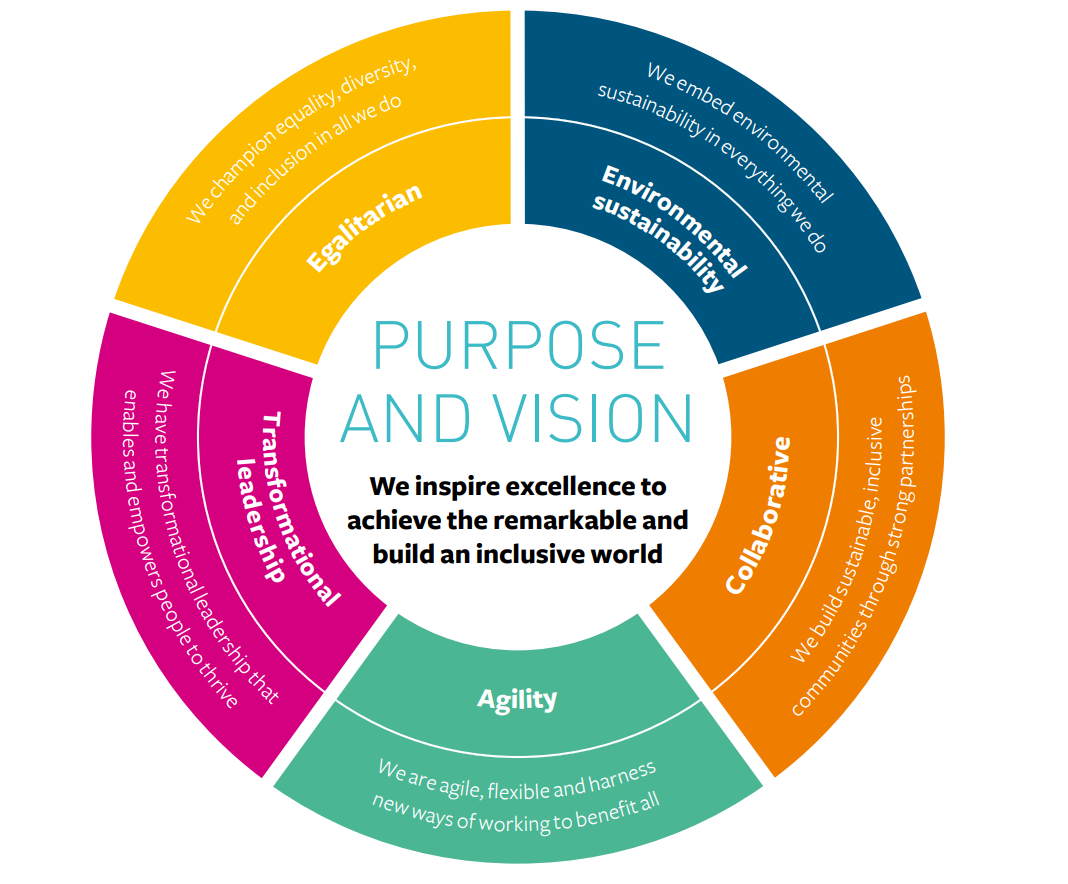 I believe that to excel in research and education, collaboration with the industry is key. The entrepreneurial ecosystem we have here at Southampton provides excellent opportunities to connect with industry for teaching and research. I work closely with the Student Enterprise team and Future Worlds, who collaborate with us at the Business School, sharing their enterprise knowledge and providing industry mentors to support our students in developing their start-up business ideas for their entrepreneurship modules.
Dr Shahnaz Ibrahim
Senior Teaching Fellow in Strategy and Entrepreneurship